Fresno Grizzlies: A series split with the San Jose Giants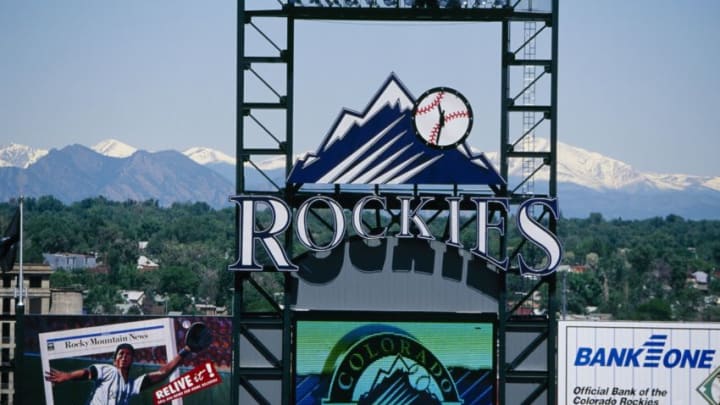 DENVER - JUNE 18: General view of Rockies logo in outfield during the Atlanta Braves game against the Colorado Rockies at Coors Field on June 18, 1995 in Denver, Colorado. (Photo by Nathan Bilow/Getty Images) /
The Fresno Grizzlies split their six-game series against the San Jose Giants (Low-A affiliate of the San Francisco Giants) after the Grizzlies swept their first series of the year against the Stockton Ports.
In the first series, the Grizzlies scored an average of nine runs per game (including 16 runs in the second game of the year) so that was going to come down and it came down during this series. Against the Giants, the Grizzlies averaged just 4.2 runs per game but it was enough for them to get a series split.
Three of their top prospects (#10 Adael Amador, #14 Warming Bernabel, and #20 Hunter Goodman) have been their three best hitters thus far on the season.
Some of the Colorado Rockies top prospects are hitting well for the Fresno Grizzlies
Adael Amador, Warming Bernabel, and Hunter Goodman have been big keys to the offense for the Fresno Grizzlies, which is one of the best in Low-A thus far on the season.
The shortstop Amador went 10-for-24 (.417 average) in the series with five, two-hit games with a double five walks, a homer, and two RBI. He's hitting .364 with an OPS of .977 overall on the season.
Bernabel, the team's primary third baseman, had three, two-hit games in the series and two more games with one hit. He went 8-for-24 overall in the series with two doubles, two walks, and three RBI. He is hitting .361 with a .967 OPS on the season.
Goodman, the Rockies 4th round draft pick that's a catcher by trade but primarily been playing first base this season, leads the team overall on the season with 10 RBI. In the series, he went 6-for-23 (.261 average) with three doubles, a walk, and three RBI. Goodman is hitting .324 with an OPS of .910.
On the pitching front, the team has pitched well. They have a 4.15 ERA, which is second-best in the eight-team California League, along with a 1.41 WHIP, which is third-best.
Their best starter has been Brayan Castillo. In two starts on the season overall, he has gone 9 2/3 innings while only allowing five hits and one walk. He has struck out eight and has not allowed a single run. On Friday, he went 4 2/3 shutout innings allowing three hits without allowing a walk and striking out six.
The Grizzlies had an off day on Monday but they return home to face the Lake Elsinore Storm (the Low-A team for the San Diego Padres) this week before heading back out on the road.