Colorado Rockies morning after: Charlie Blackmon's reaction to "the catch"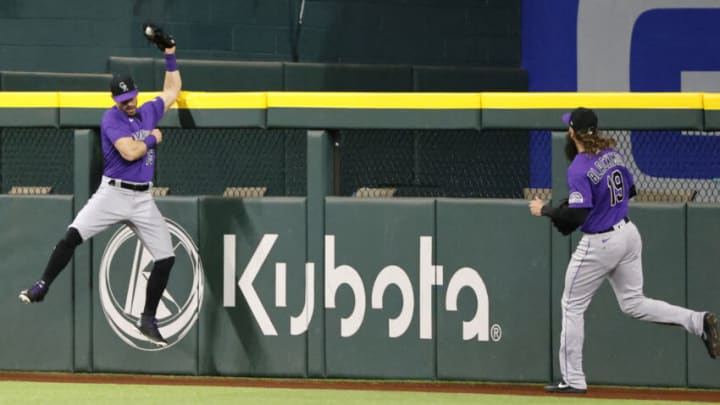 ARLINGTON, TX - APRIL 12: Randal Grichuk #15 of the Colorado Rockies makes a leaping catch above the centerfield wall for a deep ball off the bat of Corey Seager #5 of the Texas Rangers to end the fifth inning at Globe Life Field on April 12, 2022 in Arlington, Texas. (Photo by Ron Jenkins/Getty Images) /
ARLINGTON, Texas — Maybe it's best we don't talk too much about "the catch" here in the Dallas area. After all, the Joe Montana to Dwight Clark version of those words brings back memories that are still often too much for Cowboys fans to handle.
However, there was plenty of talk about another catch that also didn't benefit a local team here on Tuesday night. Another sport, another franchise, another catch that changed the complexion of the game completely, this time courtesy of Randal Grichuk of the Colorado Rockies.
Charlie Blackmon discusses the incredible catch by Randal Grichuk in a Tuesday night win by the Colorado Rockies over the Texas Rangers
As we discussed in this article, Charlie Blackmon's reaction to Randal Grichuk's momentum-changing grab over the right-center field wall has already become a GIF to be used by Rockies Twitter for all eternity.
"I was fired up," Blackmon said as the Rockies clubhouse emptied following the Tuesday night win that gave Colorado a two-game sweep of the Rangers. "I'm not a big emotion on the field type of guy but it got out right there.
"I think the situation in the game called for it. That was going to tie the game up and we were going to lose momentum. How it happened and the situation in which it happened, it was just incredible."
When asked about where the catch ranked in his career after the game, Grichuk gave a subtle nod to the emotion he saw out of Blackmon to help boost the play up his personal rankings.
"This one is definitely up there," Grichuk smiled. "I think Chuck getting excited fired me up. I normally don't get too excited out there, but when he got excited, I kind of let it out."
We asked Blackmon for his interpretation of what happened in the moments leading up to the catch by Grichuk.
"That ball started coming down and I was like, 'That ball is going to make it over the fence' and I wasn't going to get there," Blackmon recalled. "I looked up and Grichuk was still coming in hot. What is he going to do right here? And then it happened so fast. He caught the ball and I just went berserk. Almost the entire way across the outfield, I was screaming at him. I couldn't calm down.
"It was probably the best play I've ever seen."
That's high praise coming from Blackmon, now in his 12th season as a member of the Rockies. It's also a highlight that will keep Rockies fans talking throughout an off day on Wednesday before Colorado opens a seven-game homestand on Thursday, with the Chicago Cubs paying a visit to Coors Field.