Rockies vs. Dodgers Opening Day: Parking, gate times, weather, and more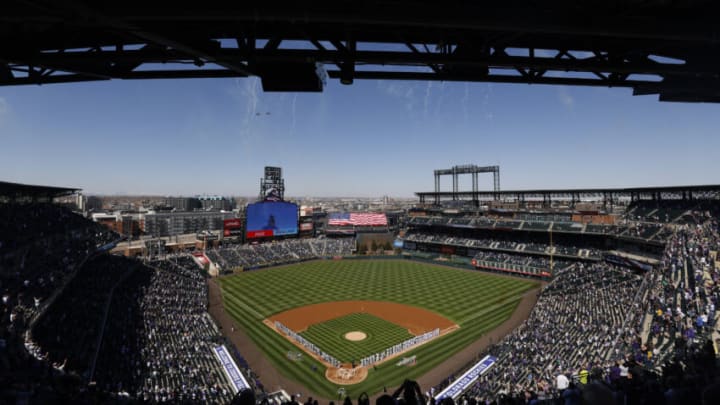 DENVER, CO - APRIL 1: A general view of the stadium during the National Anthem as fighter jets fly over the stadium before the Los Angeles Dodgers take on the Colorado Rockies on Opening Day at Coors Field on April 1, 2021 in Denver, Colorado. (Photo by Justin Edmonds/Getty Images) /
The Colorado Rockies and Los Angeles Dodgers will meet at Coors Field on Friday, April 8, at 2:10 p.m. (Mountain time) to open the 2022 Major League Baseball season. If you're heading to downtown Denver for all of the sights and sounds of Opening Day in LoDo, here is some information on parking, what time the gates open, weather predictions, and more.
Everything you need to know about getting to Coors Field for Opening Day between the Colorado Rockies and the Los Angeles Dodgers
Opening Day time and how to watch and listen
Matchup: Los Angeles Dodgers at Colorado Rockies
First pitch: 2:10 p.m.
Broadcasts: Colorado fans can catch the broadcast on television on AT&T SportsNet and on radio on KOA NewsRadio 850 AM and 94.1 FM, as well as in Spanish on KNRV 1150 AM.
What about parking around Coors Field for Opening Day?
Official parking lots for Coors Field will open at 9 a.m. Parking for Rockies games starts at $19, but prices may be higher for Opening Day. Learn more about Coors Field parking here.
Additionally, there are several other options with garages and individually owned lots within walking distance to Coors Field. Street parking is also an option. However, Opening Day is also a weekday so you will have to keep feeding the meter. You can learn about paying for street parking in Denver through an app here.
What time will the gates open for Opening Day at Coors Field?
All gates at Coors Field are scheduled to open at noon. The Rockies are scheduled to take batting practice at 11:15 a.m., so that will not be available for the public. The Dodgers, however, will take batting practice at 12:20 p.m., so the public can catch some of that after the gates have opened.
How does the weather look for Opening Day at Coors Field?
As of the time of this writing, Friday is looking fantastic for Opening Day. Highs are expected to hit around 67 degrees with plenty of sunshine in downtown Denver. You can check out an updated forecast for the game here.
Anything else to know about Opening Day at Coors Field?
Pregame activities start at 1:30 p.m. If you want to witness all of the pomp and circumstance that always goes along with Opening Day, make sure you're in your seats by that time.
The Rockies provided some information on their bag policy as well in this tweet below.