Colorado Rockies: Improvements that could be made to Coors Field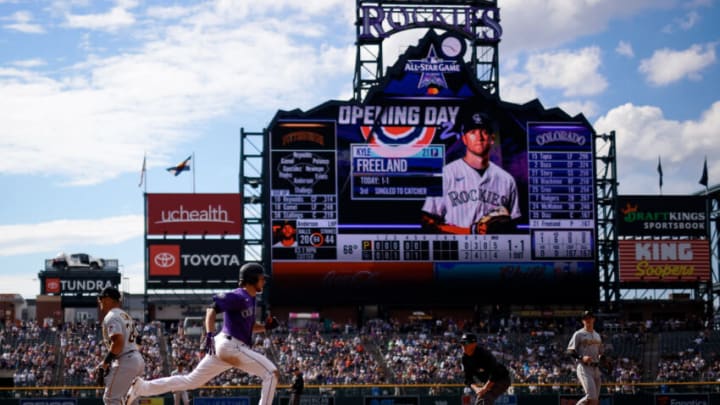 Jun 28, 2021; Denver, Colorado, USA; Colorado Rockies starting pitcher Kyle Freeland (21) outruns the throw to first in the fifth inning against the Pittsburgh Pirates at Coors Field. Mandatory Credit: Isaiah J. Downing-USA TODAY Sports /
DENVER, CO – JUNE 06: A general view of the Rockpile in center field as the Miami Marlins face the Colorado Rockies at Coors Field on June 6, 2015 in Denver, Colorado. The Rockies defeated the Marlins 10-5. (Photo by Doug Pensinger/Getty Images) /
A giant fake antique beer fermenter
If I gave you a picture of Coors Field with no sign of the Colorado Rockies, would you be able to guess that it was Coors Field? Maybe, maybe you would see the mountains at the top of the Jumbotron, maybe you would notice the batter's eye fountains, or Helton Burger, but those things are easy to miss.
When I think of iconic ballparks, I think of their large structures. Fenway has the Green Monster, Oracle Park has the Coke Bottle, McCovey Cove, and Triples Alley, Camden Yards has the B&O Warehouse, and Petco Park has the Western Metal Supply Co. Building. To give credit, I believe that the new gigantic Jumbotron with mountains on top helped with this issue, but hasn't fully fixed the issue. My proposal, I believe, would.
A giant fake antique-looking beer fermenter in right-center field, right in between the Rock Pile and the Rooftop. I believe this shouldn't be for show and could have two uses. First, I think this could replace the current stairs/elevator at the Rooftop, possibly replacing sections 301 and 201 in the process. The second possibility is to have concessions at each level in the fermenter. Traditional concessions on levels one and two and then a full bar at the Rooftop Level. This could offset the cost from potentially lost seats if 301 and 201 need to be removed for this project, though because of the shape of fermenters, I believe only section 301 may need to be sacrificed for either case.
Now, I may be off base with a lot of these ideas and proposals. Maybe Coors Field is perfect as is. For once, I want to see your comments and ideas. Either comment on this article or shout at me on Twitter (@n_sunshine_55) what you think Coors Field should add or leave alone.
I look forward to hearing your thoughts.