Colorado Rockies: Improvements that could be made to Coors Field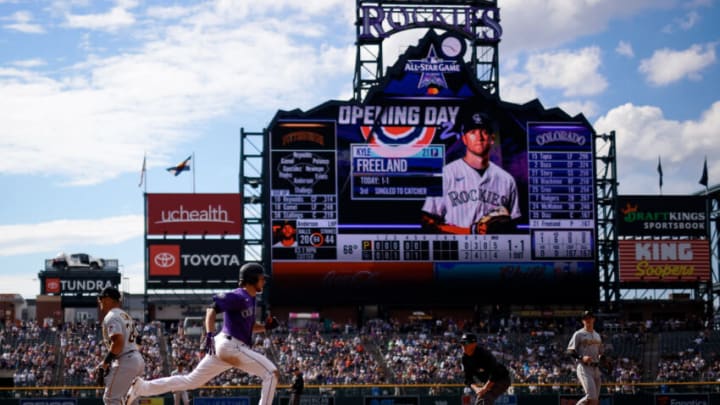 Jun 28, 2021; Denver, Colorado, USA; Colorado Rockies starting pitcher Kyle Freeland (21) outruns the throw to first in the fifth inning against the Pittsburgh Pirates at Coors Field. Mandatory Credit: Isaiah J. Downing-USA TODAY Sports /
DENVER – OCTOBER 06: Todd Helton #17 of the Colorado Rockies smiles as he warms up before Game Three of the National League Divisional Series against the Philadelphia Phillies at Coors Field on October 6, 2007 in Denver, Colorado (Photo by Steve Dykes/Getty Images) /
Replacing "The Player" with Larry Walker walking off Atlanta or Todd Helton clinching the 2007 World Series for the Colorado Rockies
Again, just like the Hall of Fame, this is something that should have happened a long time ago. There are two Colorado Rockies players who deserve the honor of being memorialized at the front of Coors Field more than any other: Larry Walker and Todd Helton. Not only do they both have their numbers retired by the Colorado Rockies, they are Baseball Hall of Famers (well not yet for Todd, but he will be soon).
But what poses would the statue take? Well, it should be one of whichever player's iconic moments.
For me, when I think of Larry Walker, I think of two things: That SpongeBob NASCAR Jersey and him walking off the Atlanta Braves on August 18, 1999. That bat hanging in the air as the legend watches his home run send the Braves home in those wonderful Turn Ahead the Clock Jerseys.
Personally, Walker was the club's first (and only thus far) MVP and Hall of Fame. This should be the statue that greets fans into Coors Field.
While I feel Walker deserves the place of The Player, there's plenty of reason for Todd Helton to have that place. He will also join the Hall of Fame eventually, was the first number retired in club history, and still holds most of the franchise records in basically every counting stat.
So, if they chose Helton to get the honor of being sculpted in front of Coors, what moment should they sculpt?
I've watched baseball for most of my life (which I understand is a lot less than many people) and to this day, no highlight gives me chills more than when the 2007 Colorado Rockies got that final out in the NLCS, sending them to their first and only World Series appearance in club history. When Helton throws his arms in the air and screams with his leg on the bag is iconic. If Todd Helton is the replacement for The Player, then it should be that moment enshrined.
Now onto some big picture stuff.