Colorado Rockies: Improvements that could be made to Coors Field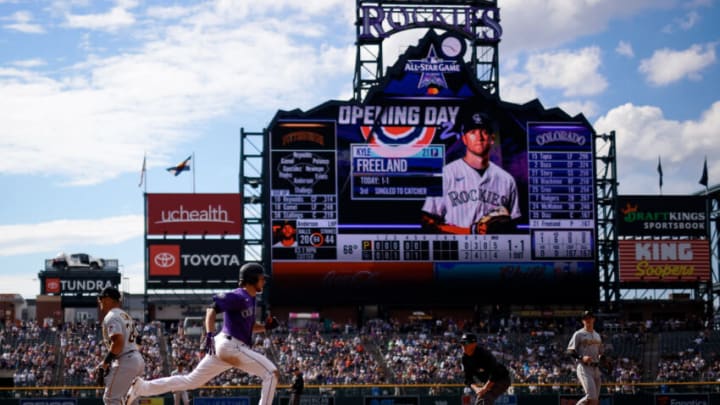 Jun 28, 2021; Denver, Colorado, USA; Colorado Rockies starting pitcher Kyle Freeland (21) outruns the throw to first in the fifth inning against the Pittsburgh Pirates at Coors Field. Mandatory Credit: Isaiah J. Downing-USA TODAY Sports /
DENVER, CO – APRIL 22: Snow falls outside the stadium as the game between the Atlanta Braves and the Colorado Rockies was postponed due to snow at Coors Field on April 22, 2013 in Denver, Colorado. The game will be made up as a split double header on Tuesday April 23, 2013. (Photo by Doug Pensinger/Getty Images) /
Coors Field, home of the Colorado Rockies, is one of the best ballparks in the sport, a beautiful field with a beautiful view. That said, it is one of the oldest ballparks in the National League, and certain improvements to help the stadium feel more modern could help enhance an already great experience.
Without further ado, what could the Colorado Rockies do to help improve Coors Field?
A Colorado Rockies Hall of Fame
I was actually in the early stages of putting together an article about both a potential Colorado Rockies Hall of Fame and its inductees, but Skyler Timmins, over at Purple Row, beat me to it. While they may have listed out the players, Walker, Helton, Galarraga, Arenado, etc., they didn't really go into detail into where such a Hall can go. I have a few ideas. There are a few odd swathes of emptiness that monuments to the former Rockies greats can go.
My first and favorite spot is at the Gate A entrance. Currently, there is only the speed pitch and the batter's cage in that area, along with the custom funnel cake concessions.
The area is mostly empty, perfect to be filled with free-standing display cases filled with memorabilia of the club's greats. Considering that the batters' cage and speed pitch are iconic to any stadium. I suggest moving them over to our next proposed location, Buckaroos.
Buckaroos is an area that rarely gets large amounts of traffic, just at the entrance to Gate E, another suitable location for a potential Hall of Fame. The next area I've considered has been in the corridor that runs under the Rockpile.
That corridor is one of the few places in the park that has artwork, but it seems empty. The only thing that currently happens there is Dinger Autographs. They could easily line the area with hanging display cases on the walls. At least initially, I think this location for the Hall (a literal Hall) of Fame would be the one that upsets the current layout of the park the least.
A Colorado Rockies Hall of Fame is something that must be done soon. The Rockies are not the newest expansion team anymore and have their 30th season coming up. There is plenty of history and players to pull from to get this started. Make it happen.