MLB lockout: Fans should be celebrating today, but are frustrated instead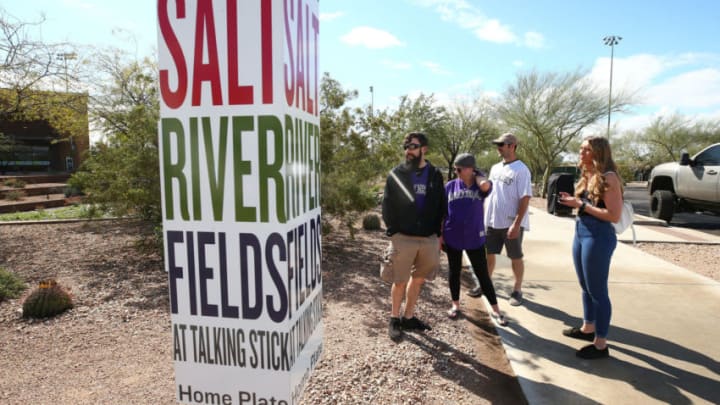 March 13, 2020; Scottsdale, AZ, USA; Jacob Saunders (white jersey) from Denver and his family stand outside Salt River Fields at Talking Stick. Saunders and family members drove from Colorado to attend a Colorado Rockies game today but Major League Baseball suspended the 2020 spring training season last night in response to the COVID-19 virus health emergency. Mandatory Credit: Rob Schumacher/The Republic via USA Today Network /
It was supposed to be the day that the Colorado Rockies and the other Major League Baseball teams officially saw pitchers and catchers report and the 2022 baseball season begin to unfold. However, with the MLB lockout in place, February 15 became just another day on the calendar.
Oh, don't get me wrong. There were plenty of things to celebrate today, including my dad's 79th birthday and a plethora of other good things going on in the world around us. However, there should have been much more good in the sports world when it came to baseball and another season beginning.
The MLB lockout has robbed us of one of the best days of the entire baseball year
The day that pitchers and catchers report is a day when hope truly does spring eternal. The boys of summer return and the chill of winter suddenly doesn't seem so cold. Sure, pitchers and catchers reporting day is more warmup and preparation for the days ahead than anything else. However, it's a day when we know that the first step toward Opening Day is underway.
Now, for the third straight season, spring training is going to be nothing like it has been in the past but now, it's because the MLB lockout.
In 2020, the outbreak of the COVID-19 pandemic brought spring training and the rest of the sports world to a halt.
In 2021, masking and social distancing still let fans and players know we were in the middle of a pandemic.
In 2022, it's a foregone conclusion that the lack of a Collective Bargaining Agreement (CBA) will keep spring training from kicking off as planned. Missing the day that pitchers and catchers reported is simply the first domino to fall it seems.
MLB still has time to pull its act together and find a way to work with MLBPA so baseball fans aren't missing regular-season games. However, the posturing and finger-pointing has to stop and both sides have to get back to the table with a focus on saving all of the 2022 season. Certainly, there is much that both sides are battling for in the near future when it comes to the CBA, but there also has to be some kind of understanding of the short-term ramifications of sitting idly by and watching the days just keep going.
We, as a sports world, have already missed the day that pitchers and catchers report. Let's hope we're not saying the same kind of things on March 31 when the Rockies and Los Angeles Dodgers are supposed to begin the 2022 season at Chavez Ravine.
Let's also be thankful (perhaps more than ever) for Minor League Baseball, college baseball at all levels, and independent league baseball.