Are the Colorado Rockies the worst team in the National League?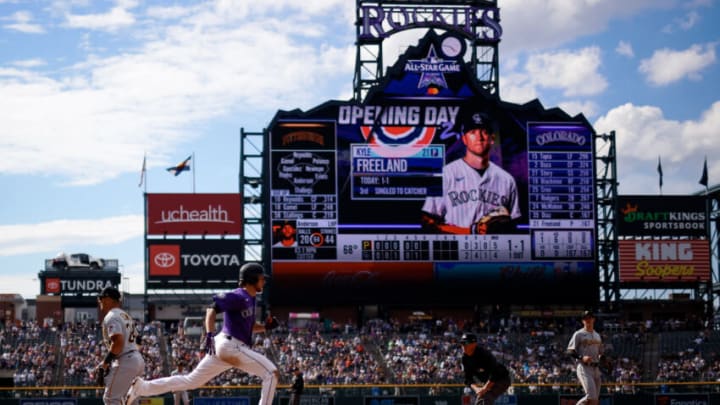 Jun 28, 2021; Denver, Colorado, USA; Colorado Rockies starting pitcher Kyle Freeland (21) outruns the throw to first in the fifth inning against the Pittsburgh Pirates at Coors Field. Mandatory Credit: Isaiah J. Downing-USA TODAY Sports /
Last week, Dan Szymborski of FanGraphs wrapped up his series with ZiPS projections for the 2022 season with the overall win-loss projections for each team and it wasn't pretty for the Colorado Rockies.
Even with Trevor Story being part of their ZiPS projections (since the Rockies are the last team he was on and he hasn't signed elsewhere), the Colorado Rockies are projected to be dead last in the National League West and in the Nationals.
ZiPS projects that the 2022 Colorado Rockies will be a 66-96 team.
ZiPS projects that (if there is a 162-game season in 2022), the Colorado Rockies will regress by winning eight fewer games in 2022 with a 66-96 record.
ZiPS has underestimated in some years the Rockies but overall, as Szymborski noted on Twitter on Sunday, the program has actually overestimated the Rockies win total by one win per year since he started the program in 2004.
In 2021, for example, the program vastly underrated the Rockies when it projected the Rockies to be a 63-99 team. They went 74-87. But in 2020, the program was dead accurate at 26-34. In 2019, it overestimated the Rockies by eight wins (79 vs. 71).
For the 2021 edition, here is what Szymborski had to say about the Rockies.
"The good news for the Rockies is that they're nearly out of star players to alienate and then either trade or simply let walk with limited or no compensation. I'll let you imagine what the bad news is."
Cynical as it is, his opinion is based in fact. Any observer of the Rockies knows that they messed up with Nolan Arenado, they messed up with Jon Gray, and they messed up with Trevor Story (regardless of whether or not he returns). Their spiral downward started after the 2018 season when they failed to re-sign D.J. LeMahieu, signed Daniel Murphy, and nobody else.
They alienated Arenado and were able to get rid of his contract (which they didn't plan on keeping for the duration of the contract in the first place).
That's why the Rockies are where they are, regardless of the lockout or projections: a team that is not a competitive baseball team in regards to the playoff picture.