The best Colorado Rockies players to ever wear number 22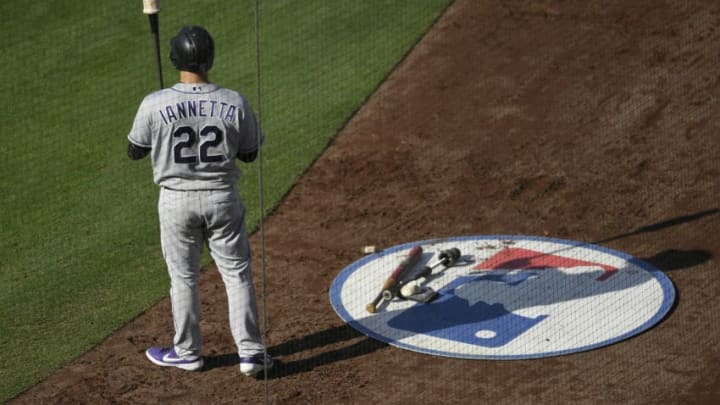 LOS ANGELES, CA - JUNE 22: Chris Iannetta #22 of the Colorado Rockies is on deck waiting for his at bat against the Los Angeles Dodgers in the third inning at Dodger Stadium on June 22, 2019 in Los Angeles, California. (Photo by John McCoy/Getty Images) /
With the calendar turning to 2022, it seems like an appropriate time to look at the best Colorado Rockies player who have ever worn the number 22.
Who are the best Colorado Rockies players to ever wear the number 22?
In all, 13 players have worn number 22 for the Colorado Rockies in the franchise's history. The first of that group was Eric Wedge, who had 22 on his back in Colorado's inaugural season of 1993. Currently, Sam Hilliard wears 22 for Colorado, switching over from number 43 he wore during his rookie season of 2019.
Outside of Hilliard (who has worn 22 for the last two seasons), only three other Colorado players have worn 22 for more than one campaign. Let's take a look at them below.
Walt Weiss wore number 22 while playing with the Rockies from 1994 through 1997 and also during his time as Colorado's manager from 2013 through 2016. Weiss totaled more at-bats in a Colorado uniform than any other during his 14-year playing career. His 3.9 bWAR during his Colorado playing days is the most of any player wearing 22 with the Rockies.
Catcher Chris Iannetta donned number 22 during his final tour in a Colorado Rockies uniform, wearing the number during the 2018 and 2019 campaigns. While the vast majority of Iannetta's numbers with the Rockies were compiled earlier in his career while he was wearing number 20, he did play 162 total games wearing number 22 during Colorado's two most recent playoff seasons he was behind the plate, posting a .223/.335/.395 slash line with 17 home runs and 57 RBI.
Terry Shumpert wore 22 for the Rockies from 1999 through 2002, logging a .284/.351/.466 slash line with 29 home runs and 122 RBI while stealing 40 bases during that time.
Want to know more about some of the best players to ever wear certain numbers for the Rockies? Check out our series, including this segment on the top Rockies to ever wear jersey numbers 21 through 30.