Colorado Rockies: Bill Schmidt's thoughts on signing a DH in free agency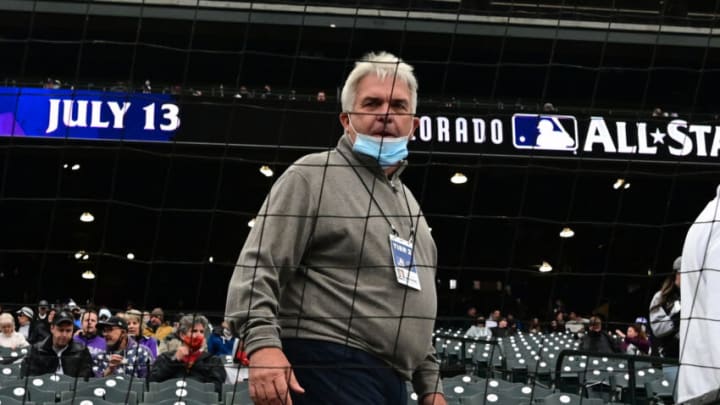 May 16, 2021; Denver, Colorado, USA; Colorado Rockies interim general manager Bill Schmidt before the game against the Cincinnati Reds at Coors Field. Mandatory Credit: Ron Chenoy-USA TODAY Sports /
Colorado Rockies fans who might be dreaming of the team signing a full-time designated hitter this offseason like Nelson Cruz, we have some bad news for you. That kind of contract isn't in Colorado's near-term plans according to general manager Bill Schmidt.
The Colorado Rockies are confident with their internal options for a designated hitter in 2022
While the Colorado Rockies certainly will likely still be active in free agency, the mindset of the franchise hasn't changed when it comes to the importance of versatility and an appreciation for players who can fill in at different positions if needed. And, with a designated hitter still not officially part of the plans for 2022 (even though it is widely believed that it will be instituted in the National League for the upcoming season), Colorado is looking at ways to use players already in the organization to fill a designated hitter role.
"I think we have internal options if the DH comes," Schmidt said during the recent Major League Baseball general manager meetings in Carlsbad, Calif. "We have C.J. (Cron). We have Charlie (Blackmon). How do you use it (the DH)? Buddy (Colorado manager Bud Black) can use it to give guys a day off (in the field). I don't think we have to get a I'll use Nelson Cruz or David Ortiz type of player for that role.
"I think we have guys internally that we can use. Especially playing at altitude and at Coors Field during a nine- or 10-game homestand, it's a way to give guys a day off."
If Cron or Blackmon, for example, are used as the designated hitter, the Rockies will be looking to have players take their places in the field that not only keep a defensive dropoff from occurring, but also will add power to the lineup, something Colorado desperately lacked in 2021, particularly in the outfield. That's where a Nick Castellanos-type of signing would make sense, adding power to the lineup whether that player was in the field or slotted in the lineup as the designated hitter that day.
Colorado will certainly need to boost its lineup heading into 2022, but it won't be from a player who has designated hitter as his only job in Denver.