Colorado Rockies remove "interim" GM tag for Bill Schmidt, announce front office promotions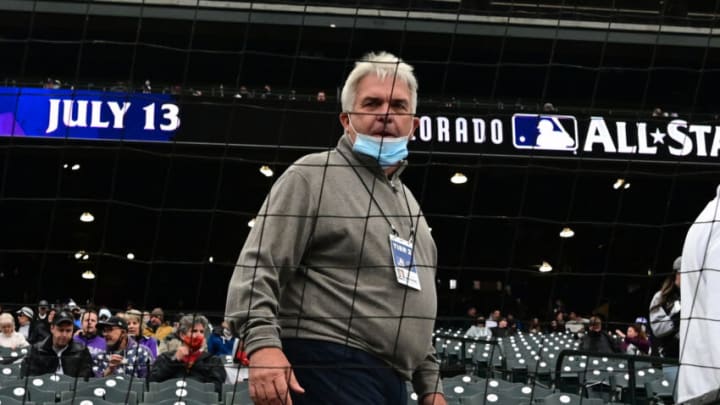 May 16, 2021; Denver, Colorado, USA; Colorado Rockies interim general manager Bill Schmidt before the game against the Cincinnati Reds at Coors Field. Mandatory Credit: Ron Chenoy-USA TODAY Sports /
The Colorado Rockies announced on Saturday that they have officially removed the "interim" tag from General Manager Bill Schmidt. He becomes the 4th GM in Rockies history after Bob Gebhard, Dan O'Dowd, and Jeff Bridich.
Additionally, the Rockies announced that they have promoted Danny Montgomery to vice president and assistant GM of scouting and Zack Rosenthal has been promoted to vice president and assistant general manager of baseball operations and assistant general counsel.
The Colorado Rockies officially hiring Bill Schmidt is not surprising to anybody.
The official hiring of Schmidt, 61, is not surprising in the slightest. After all, the Rockies have already been in the process of hiring other front office personnel for weeks now.
Schmidt was named the Rockies interim GM on May 3, after leading the Rockies scouting department for more than 20 years. He joined the Rockies organization on October 1, 1999. Then, Dan O'Dowd was just named Rockies GM just a few weeks prior. O'Dowd joined the Rockies from the Cleveland Indians, where he was an assistant GM. Schmidt was also with Cleveland from 1995 through 1999 as their national crosschecker in the scouting department.
Schmidt has also worked in the Yankees, Reds, and Brewers organization in the front office, as a scout, or as a minor league coach going back to 1981.
Montgomery is one of the Rockies original hires as he joined the organization in November 1991. He has worked in the scouting department as a crosschecker and as the assistant director of scouting before he was named a special assistant to the GM for the last seven seasons.
Rosenthal has been the assistant general manager of baseball operations and assistant general counsel for the last seven seasons but he is also being promoted to vice president. He has been in the Rockies front office since 2006.
We will hear from Bill Schmidt here shortly in Phoenix, Arizona, where the Rockies will play their penultimate game of the season later tonight. Rox Pile's Kevin Henry is in Arizona with coverage for Rox Pile so as we hear from Schmidt, we will update this article and/or the site with the information.