Colorado Rockies prospect Jack Wynkoop on transitioning to the bullpen, taxi squad, more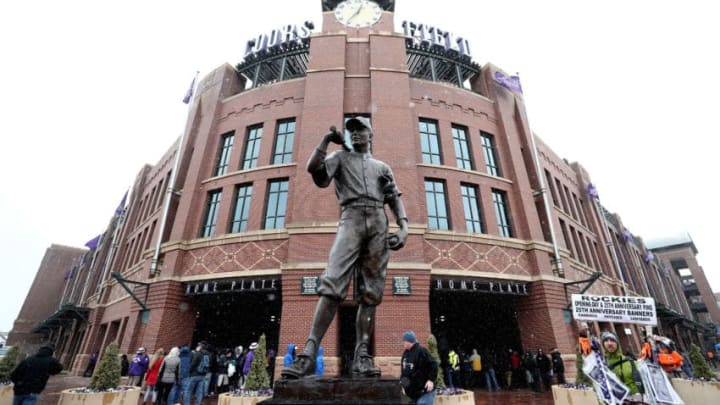 DENVER, CO - APRIL 06: Fans enter the stadium before the Colorado Rockies home opener against the Atlanta Braves at Coors Field on April 6, 2018 in Denver, Colorado. (Photo by Matthew Stockman/Getty Images) /
This past road trip when the Colorado Rockies went to Seattle and Milwaukee to face the Mariners and Brewers, the Rockies did something that they haven't done for all of their recent road trips: They carried multiple players on their taxi squad.
They can carry as many as five players (and did so in 2020 and for the start of 2021) but once the Rockies hit the 85 percent vaccination rate (and relaxed COVID protocols) back in April, the club has sometimes only carried a third catcher.
However, for some trips, they have carried a pitcher on the taxi squad. For this road trip, the Rockies decided to do this as well. This time, however, the Rockies carried left-handed pitcher Jack Wynkoop on the taxi squad, which is the first time he has been on it.
While in Milwaukee, we spoke with the tall, lanky left-handed pitcher about his time with the Rockies on the road trip about his season thus far with Triple-A Albuquerque and how it's different being on the taxi squad in comparison to a regular roster.
""It's different in the sense that it's my first time up here spending time around these guys," Wynkoop said to Rox Pile in Milwaukee before Sunday's series finale. "I'm just more (of) a sponge taking things in and it's been a really good (learning) experience for me to see how these guys work day in and day out (and) how they compete. Being this close to the game gives me a sense of familiarity and a sense of confidence if I get a chance to help this team win a ballgame. I'm just trying to take it all in and enjoy it and learn as much as possible.""
Wynkoop, 27, said that he really learned a lot from the catchers on the trip and, specifically, Dom Nuñez, who he has been friends with for a long time. The two were teammates in 2016 with the Advanced-A Modesto Nuts and in 2017-18 with the Double-A Hartford Yard Goats.
He also has learned a lot from the Rockies coaching staff and Rockies closer, Daniel Bard, who is a former coach in his own right as he was with the Diamondbacks as a mental skills coach before returning to baseball in 2020.
Wynkoop also had a bullpen session while the team was in Seattle. Wynkoop said that manager Bud Black, a former left-handed pitcher himself, sat in on it and gave Wynkoop some pointers but Wynkoop said that he thinks he and Black "see the game with a similar lens."
Before the pandemic, Wynkoop had never pitched above Double-A Hartford and, with the exception of two games in his rookie season of 2015 with the short-season Class A Boise Hawks, had been exclusively a starting pitcher.
However, the Rockies elevated him to Triple-A Albuquerque for the 2021 season and transitioned him to a reliever full-time.
Wynkoop told us about the differences he has had experienced in that transition.
""I think the biggest difference (has been) my routine," Wynkoop. "When you're a starter, you know when you're going to pitch. You have a little more time to get loose and you've got a little more time to do your whole routine so (I've had) a little tweak in my routine. But I've really enjoyed going out there and let everything all out and throw all of my pitches in any count, whenever I want because I don't need to save anything (for later in the game).""
More from Colorado Rockies Prospects
Wynkoop also said that he has enjoyed "the bullpen mentality" of just "coming in (to the game), do your job, (and) keep your team in a position to win or help put the team in a better position to win."
The Rockies drafted Wynkoop in 2015 in the sixth round out of the University of South Carolina and he has been known as a finesse guy who will have to rely on control and being under the average pitch speed to get to the major leagues. Wynkoop says that he thinks he needs to develop his pitches more with stuff and location and strengthen himself more in the weight room to get to the major leagues.
Thus far, Wynkoop's move to the bullpen has worked out well for him as he has had some of the best results for any pitcher for Albuquerque. In 11 games (27.2 IP) with Albuquerque, he has an ERA of 2.60 with 3.9 walks per nine innings with a WHIP of 1.37.
If the Rockies bullpen struggles at the MLB level as they have in the first three months of the season, Wynkoop may see some time in the major leagues himself in the near future.