Colorado Rockies: Riley Pint and the Rockies drafting problem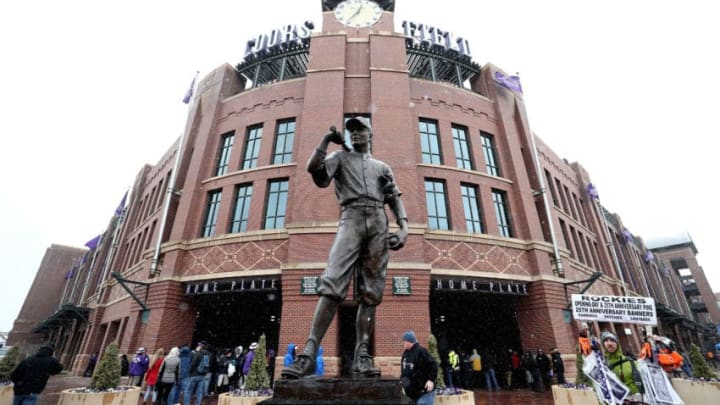 DENVER, CO - APRIL 06: Fans enter the stadium before the Colorado Rockies home opener against the Atlanta Braves at Coors Field on April 6, 2018 in Denver, Colorado. (Photo by Matthew Stockman/Getty Images) /
On Tuesday, MLB.com's Thomas Harding reported that former Colorado Rockies first-round draft pick, Riley Pint, was going to retire.
Pint had suffered numerous injuries in his pro career and, like all minor leaguers, he did not have a 2020 season.
However, before the Rockies High-A affiliate, the Spokane Indians, took the field against the Vancouver Canadians in a six-game series, the Spokane pitching coach, Ryan Kibler, spoke with the local media about Pint and, at least according to Kibler, Pint may not be retiring, but just stepping back from baseball temporarily.
"I can't really describe it any other way but to clear his head and get away from the pressure a little bit," said Kibler. "Hopefully, the way I see it, (this) will give (him) a chance to reset."
As of the publication of this article, Pint is set to file the paperwork to retire but, according to assistant GM Zach Wilson, the Rockies are open to him returning to the team.
Kibler said that he thought it was a curious time for him to step back because "he was in a better place, this year, than he has been in a while" but he was "a little surprised that it took this long to come to a head like this." Kibler said that he thought he was turning the corner, though, and he said that he wish he would have "stuck it through."
Pint was having his best pro season in 2021 as he went 1-0 with a 3.38 ERA in 10 games (all in relief). But Kibler said that playing catch and warming up pre-game was "a little difficult" for Pint, which has been shown by his walk rate this year as he was averaging 8.4 walks per nine innings. His walk rate was even higher in 2018 and 2019, though, as he averaged 11.9 and 15.8 walks per nine innings.
The Colorado Rockies could have somebody on their MLB roster if they didn't draft Riley Pint
Assuming Riley Pint will not return and/or not make it to the majors and he doesn't become a long-time major leaguer, it will be one of the biggest busts in Colorado Rockies draft history and MLB Draft history.
He was drafted 4th overall in the 2016 Amateur Draft in 2016 and there are a number of MLB players who were drafted after him in that draft, including current Rockies players Jordan Sheffield, Ben Bowden, and Garrett Hampson.
Among those who were drafted after Pint and signed in that draft were:
8th overall pick RHP Cal Quantrill of San Diego (1.3 WAR)
11th overall pick OF Kyle Lewis of Seattle (2.4 WAR)
20th overall pick INF Gavin Lux of the Dodgers (2.3 WAR)
32nd overall pick C Will Smith of the Dodgers (4.2 WAR)
33rd overall pick OF Dylan Carlson with St. Louis (1.4 WAR)
34th overall pick RHP Dakota Hudson with St. Louis (2.6 WAR)
2nd round pick (#59 overall) OF Bryan Reynolds with Pittsburgh (7.0 WAR)
2nd round pick (#64 overall) 1B Pete Alonso with the Mets (6.5 WAR)
3rd round pick (#83 overall) C Sean Murphy with Oakland (2.9 WAR)
3rd round pick (#91 overall) OF Austin Hays with Baltimore (2.6 WAR)
3rd round pick (#92 overall) RHP Aaron Civale of Cleveland (3.4 WAR)
3rd round pick (#101 overall) RHP Dustin May with the Dodgers) (1.8 WAR)
3rd round pick (#106 overall) RHP Zac Gallen of the Cardinals (5.9 WAR with Miami and Arizona)
4th round pick (#111 overall) RHP Corbin Burnes of Milwaukee (3.2 WAR)
4th round pick (#122 overall) RHP Shane Bieber of Cleveland (11.4 WAR)  (2020 AL Cy Young Award winner)
5th round pick (#162 overall pick) INF Cavan Biggio of Toronto (5.1 WAR)
6th round pick (#196 overall pick) INF Tommy Edman of St. Louis (7.3 WAR)
9th round pick (#281 overall pick) RHP Tony Gonsolin of the Dodgers (2.2 WAR)
12th round pick (#362 overall pick) RHP Zach Plesac of Cleveland (4.5 WAR)
So there are a bevy of players that have long passed Pint in regards to playing ability and the Rockies MLB roster, with some of those players, could look very different, and in a good way, in 2021.
Poor drafting and poor results from drafting is part of the reason why the Rockies are where they are right now. Nearly all of the players listed above are playing for perennial contenders, including the Dodgers, who have drafted well time and time again.