Colorado Rockies podcast: How did "taco's" originate?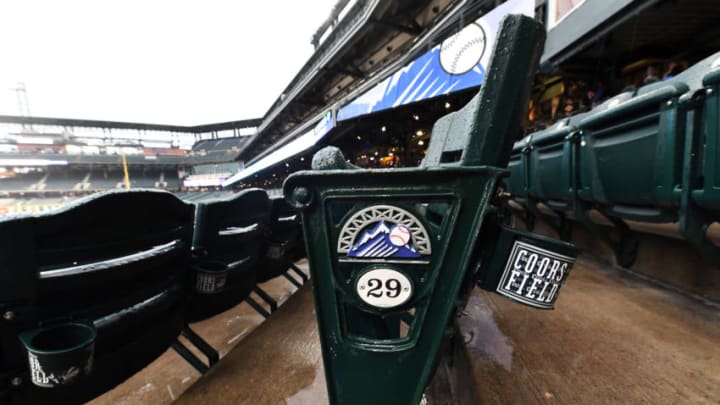 May 8, 2019; Denver, CO, USA; General view inside Coors Field during a rain delay in the game between the San Francisco Giants against the Colorado Rockies. Mandatory Credit: Ron Chenoy-USA TODAY Sports /
If you're a Colorado Rockies fan and you're on Twitter, something that you saw on Thursday, for the first time in nearly two weeks, was "taco's" throughout most of your feed.
It's been on Twitter for a long time now but it became popular during the Rockies 2017 season when the Rockies had 19 times when "taco's" (free taco's from Taco Bell when the Rockies score at least seven runs during a game) occurred in the first two months of the season, when the Rockies were en route to the playoffs.
So how did the apostrophe get into "taco's" for Rockies fans?
Innocently enough, it started out with this random tweet from an account that only has three tweets.
The second tweet from the account was this:
It was all the way back in 2009 and the account has been dormant since August 2009, nearly 12 years ago.
So we asked Bryan Kilpatrick of Mile High Sports (who, at the time, was the managing editor at Purple Row) about the origination of it, how he was part of selling t-shirts for it, and how they were able to raise hundreds of dollars for Shatterproof, a national nonprofit organization dedicated to ending the addiction crisis in the United States.
Former Rockies catcher Tony Wolters even showed off his taco's t-shirt in the Rockies clubhouse.
So, despite Twitter sometimes being aggravating, there is always some good to come out of it and it did this time.
In addition, we talk with Bryan about the Rockies this year, the front office turnover that the Rockies have had with the departure of GM Jeff Bridich, the trade rumors surrounding Trevor Story and Jon Gray, and some of Bryan's favorite names
My co-expert, Kevin Henry, and I also discuss the Rockies upcoming road trip to Miami and Cincinnati. We talk about the roster construction if Story and Gray are traded, their current roster construction as well as the roster crunch that may be coming in the near future with multiple players coming off of the injured list.
After the road trip, the Rockies will come home to face the Padres and the Brewers before heading back out on the road again.
You can listen to the podcast above or wherever you download your podcasts.