Colorado Rockies: After mundane start for German Marquez, should we be worried?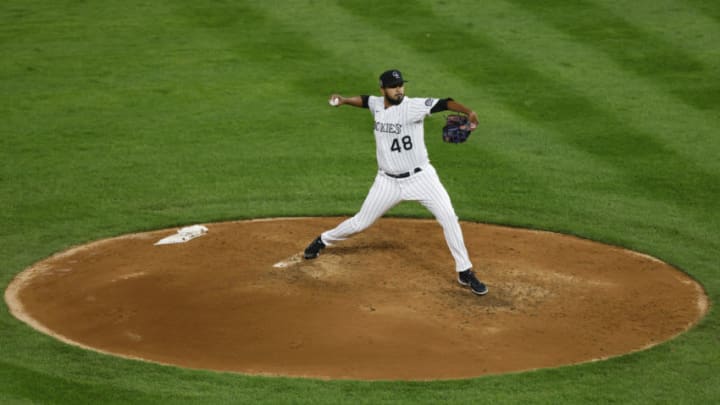 DENVER, CO - AUGUST 11: German Marquez #48 of the Colorado Rockies delivers to home plate during the fifth inning against the Los Angeles Angels at Coors Field on September 11, 2020 in Denver, Colorado. (Photo by Justin Edmonds/Getty Images) /
German Marquez of the Colorado Rockies /
So the results are pretty confusing so far. Marquez is obviously being seen better by batters but it's not resulting in runs. Are they seeing a certain pitch better than normal? Let's see what Statcast tells us.
The first thing from Marquez's statline on Statcast is that his xwOBA (Expected Weighted On Base Average) and xwOBACON (xwOBA Based On Contact) are both career highs for him, sitting at .388 for his wOBA and .433 for his xwOBACON. Neither are great for him, but both point toward some of the same things we've seen in his traditional and advanced stats: He's getting lucky even while batters are seeing him better.
So now this means that hitters have to be seeing a certain pitch, or multiple pitches, better than normal, right? Is there something different in his pitch mix? Let's get what we can from Statcast.
Colorado Rockies /
Colorado Rockies
In 2021, Marquez's pitch mix is fairly similar. You're getting mostly 4-seam fastballs and curves from Marquez with an array of sliders, sinkers and changeups mixed in. The biggest difference is more fastballs in 2021 (45.0% vs 38.5%) along with fewer sinkers (7.1% vs 13.9%) and fewer changeups (2.5% vs 5.3%). Throwing fewer sinkers and changeups is a good thing, though. They were two of the pitches that hitters hit the best against Marquez.
A stark difference this season, though, is how well hitters are hitting Marquez's slider. In 2020, hitters had a wOBA of .205 against Marquez's slider and in 2021 they're posting a wOBA of .569 against it. Again, this is largely because of a small sample size against Marquez, but many of the stats suggest that hitters are hitting his other pitches similarly, so the stark difference in how well they're hitting his slider should be concerning.
On top of that, hitters aren't whiffing on his slider anywhere near as often as they did in 2020. Where he once got a whiff on 46% of his sliders in 2020, he's only getting them to whiff 27.8% of the time in 2021. In fact, hitters are swinging at Marquez's pitches less overall and potentially being more selective. In 2020 hitters swung at 48.9% of his pitches while in 2021 they're swinging at just 41.4% of pitches. Maybe this is simply a divisional advantage since he hasn't pitched against anyone outside of the NL West, but it also signifies that maybe hitters are seeing him better (as the other stats have suggested).