Colorado Rockies: After mundane start for German Marquez, should we be worried?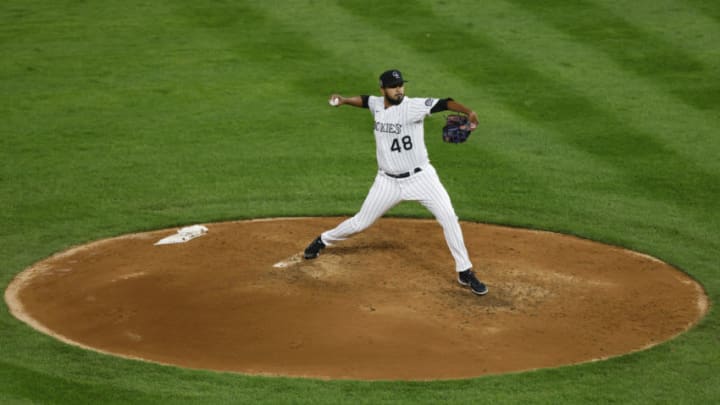 DENVER, CO - AUGUST 11: German Marquez #48 of the Colorado Rockies delivers to home plate during the fifth inning against the Los Angeles Angels at Coors Field on September 11, 2020 in Denver, Colorado. (Photo by Justin Edmonds/Getty Images) /
German Marquez of the Colorado Rockies /
But there's more than the Three True Outcomes. They only account for around 35% of all results in the game on average, so what happens when the ball is put in play? Let's look at Marquez's batted ball profile with a combination of stats from both FanGraphs and Statcast:
38.3% Hard Hit% | 12.8% Barrel% | 60% Groundball% | 21% Soft Hit % | 23.1% HR/FB%
Were you confused by Marquez's results already? Well, you're about to be if you weren't.
The first thing to point out is Marquez's 60% GB% and his 21% Soft Hit%. Per FanGraphs, both of these would be career bests for Marquez. And those are certainly things contributing to his lower-than-expected ERA and are also a recipe for success not just at Coors Field, but for any pitcher. Get soft contact and have hitters put it on the ground and you're very likely to succeed. His Hard Hit% of 38.3% would be the second lowest mark in his career. Yay!
Now, more concerning with Marquez is his 12.8% Barrel% and his 23.1% HR/FB%. Marquez has never allowed a Barrel% higher than 7.5% and has never had a HR/FB% higher than 20.1%. Both of those came in Marquez's 2019 season but they also came alongside a K% of 24.3% and a career low BB% of 4.9%.
Of course, this is all based off a small sample size. Only six balls have been barreled against Marquez. That's not many, but to put things in context: Marquez only allow 12 balls to be barreled in 2020 when he pitched 81.1 innings (he's pitched 15.2 so far). In 2019 he allowed 38 balls to be barreled in 174 innings pitched. Marquez won't end at 12.8% at the end of the year, but the early trend isn't exactly looking all that positive for Marquez.