Colorado Rockies: Zach Wilson on instructional league, MiLB status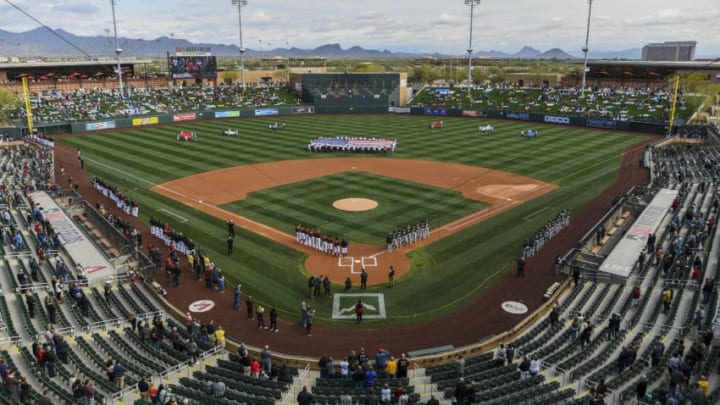 SCOTTSDALE, ARIZONA - FEBRUARY 23: An overhead view of the Oakland Athletics and Arizona Diamondbacks as they stand for the national anthem prior to the spring training game at Salt River Fields at Talking Stick on February 23, 2020 in Scottsdale, Arizona. (Photo by Jennifer Stewart/Getty Images) /
DENVER, CO – AUGUST 16: A detail of the scoreboard honoring the 100th anniversary of the Negro Leagues on display during a game between the Colorado Rockies and the Texas Rangers at Coors Field on August 16, 2020 in Denver, Colorado. (Photo by Justin Edmonds/Getty Images) /
The Colorado Rockies instructional league went on for five weeks without a hitch.
One thing that did not change was the Arizona Instructional League, which was normal in comparison to previous instructional leagues, according to Wilson.
""This year was sort of a regular scenario for instructional aide that goes on every year," said Wilson. "It just happened to be that the Arizona Fall League was canceled, obviously, and so in terms of the instructional league itself, I think [it was] very similar to years past outside of, you know, all the COVID protocols that we had to follow and and really enforce and quite frankly our players and our staff did an unbelievable job with making sure that they were protecting each other, protecting the sanctity of instructional league. We took over 600 tests, and we had zero positives… [That] allowed us to be able to go through our five-week program with with good continuity. That was especially important when you know you're playing games for the first time all year, and, particularly these pitchers, to be able to throw in some sort of consistent way.""
Wilson added that they tested the players coming into the instructional league and, while he was "wasn't sure" on whether or not they would be able to start on time since they had "intake testing" before starting the camp, they all came back negative and none ever tested positive throughout the camp. They ended up forming a "soft bubble" that "worked to perfection" and they played roughly 20 games.
Coming into the program, he was also concerned that players might not be in shape. After all, they haven't played with a team since, at the latest, Spring Training back in early March. However, they were more than ready to come back.
""I've got to give our players a lot of credit, they came into that program in even better shape than I was expecting," Wilson said. "Many of the pitchers, really all of the pitchers, quite honestly, were in midseason form when it came to their velocities. Of course, [they hadn't faced live hitters in months so] that took some time to knock the rust off but their arms were in tremendous shape.""
As Wilson explained, each instructional league is different, depending on what they think needs to be accomplished each year. This year, Wilson said that since the minor leaguers didn't play games, it was "the most important instructional league ever and I've been around conducting these things for 20 years."
Last year, Wilson said "we played no games, on purpose, and it was only a two-week program." This year, since they played no games, they purposely made the program longer (five weeks) and had them play roughly 20 games.