2020 MLB Draft: Scouting Colorado Rockies first-round pick Zac Veen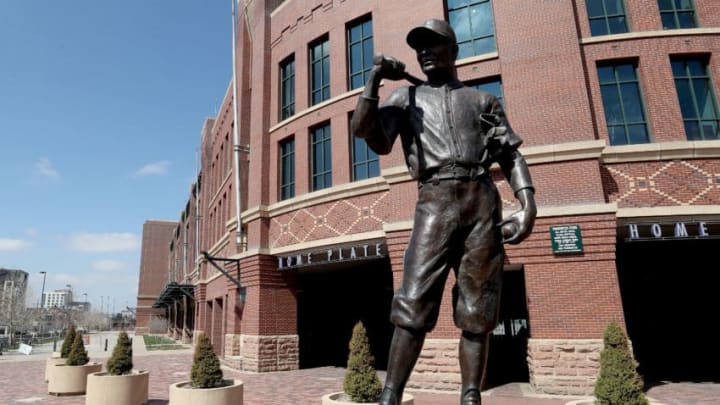 DENVER, COLORADO, - MARCH 26: Coors Field remains closed on what was to be opening day for Major League Baseball on March 26, 2020 in Denver, Colorado. Major League Baseball has postponed the start of its season indefinitely due to the coronavirus (COVID-19) outbreak. (Photo by Matthew Stockman/Getty Images) /
DENVER – MAY 25: Larry Walker #33 of the Colorado Rockies throws the ball in from the outfield during the game against the San Francisco Giants at Coors Field on May 25, 2003 in Denver, Colorado. The Rockies defeated the Giants 5-1. (Photo by Brian Bahr/Getty Images) /
But to my elation, Robert Manfred read "With the 9th pick in the 2020 MLB draft the Colorado Rockies select Zac Veen, OF, out of Spruce Creek HS, Port Orange, Florida." I couldn't help but hit the ceiling. The comps are to a Cody Bellinger and Christian Yelich. I hate to anoint a kid straight out of HS, but this kid has shades of Larry Walker.
This goes beyond the bats left, throws right similarities and almost identical measurables (Veen 6'4/190 and Walker 6'3″/190) at the exact same age of 17. He projects as an uber-athletic right fielder with a laser arm, and a power/speed combo to project as at least a 20/20 if not 30/30 potential in the future.
His scouting report is actually much rosier than Walker's. Veen's is via MLB.com and Walker's is from a scouting report in 1984 (you can check that out here).
Now I am not saying that I expect Veen to become the greatest outfielder to ever don purple pinstripes but I am saying he has the potential to be: he IS that talented and the reason why I never even dreamed he would be sitting there at #9 for the Rockies to pluck.
This goes completely against the grain with Rockies 1st round picks, over their 28-year history, they have picked a total of 3 outfielders including Zac Veen (David Dahl 2012, Kyle Parker 2010). They have selected 11 position players (three shortstops, two each for third base and first base, 1 utility man, and three outfielders) and 18 pitchers.
They are exactly 50/50 with 14 high schoolers and 14 college kids drafted. So the Rockies do not have a preference for level of experience, but they obviously believe the more swings you take at pitchers, that they have to eventually fill that seemingly bottomless hole of failed projects at a Mile High.