Colorado Rockies: Looking back at a history-making day for the DH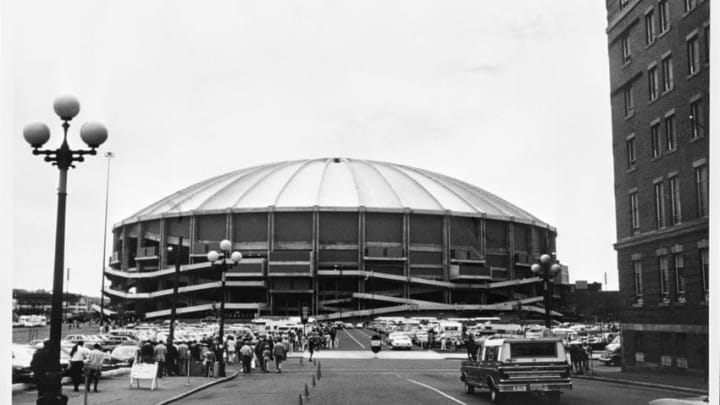 SEATTLE - SEPTEMBER 26: The exterior of the Kingdome is shown before the San Francisco 49ers game against the Seattle Seahawks on September 26, 1976 in Seattle, Washington. The Niners defeated the Seahawks 37-21. (Photo by Michael Zagaris/Getty Images) /
On this date in 1997, the Colorado Rockies were a piece of Major League Baseball history, taking part in the first interleague regular-season games.
It was June 12, 1997, and the Colorado Rockies took to the road to meet the Seattle Mariners at the Kingdome. Dante Bichette batted fifth in the Colorado lineup that day, becoming just one of four National League players to be a designated hitter on that historic day. Along with Bichette, Rickey Henderson (playing for San Diego), Mike Piazza (playing for Los Angeles), and Glenallen Hill (playing for San Francisco and a player who would eventually become a coach in the Rockies system) were the four NL players to serve as a DH in the first-ever interleague matchup.
In the game, Bichette would go 3-for-5 and score two runs, but the Rockies would drop a 12-11 decision to Seattle. Ken Griffey Jr. and Jay Buhner would each drive in three runs to pace the Mariners. Vinny Castilla would match Bichette with a 3-for-5 day but also add three RBI.
More from Colorado Rockies History
Ironically, current Seattle general manager Jerry Dipoto came in in relief for Colorado in that game, throwing 2.2 innings and allowing two runs on four hits.
While Bichette served as the DH that day, it is two other Rockies who hold a place of honor when it comes to an overall list of NL players who have served as the DH through the years.
Piazza holds the record for playing 49 games as a DH in the NL, but not far behind are Matt Holliday (33 games as DH for the Rockies and St. Louis Cardinals) and Larry Walker (27 games as DH for the Rockies and Cardinals). Holliday posted a career .258 batting average as a DH with an .858 OPS while Walker logged a .289 average with 1.084 OPS, the highest OPS for any NL DH with more than 25 games at the position.
While the NL DH was an anomaly in 1997, it looks like it will be a permanent part of the NL, at least in 2020, if the rumors hold true about the changes coming to baseball this season.