Colorado Rockies flashback: Fans help set a new MLB milestone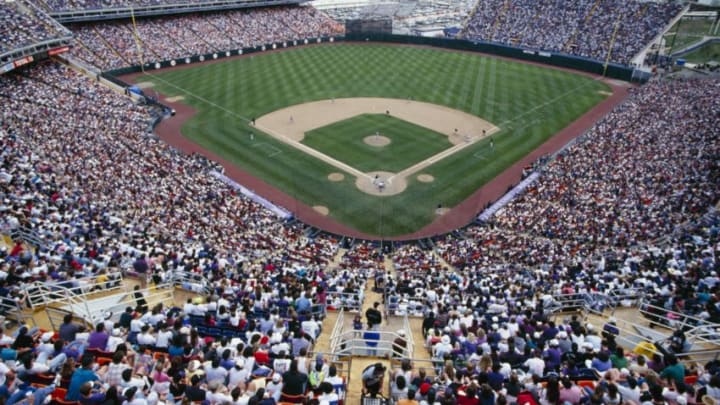 DENVER - APRIL 11: A general view of Mile High Stadium during the MLB game between the Montreal Expos and the Colorado Rockies on April 11, 1993 in Denver, Colorado. (Photo by Tim DeFrisco/Getty Images) /
On May 9, 1993, the Colorado Rockies were still navigating through their inaugural Major League Baseball season. They were also celebrating a new MLB milestone when it comes to attendance.
When Lydia McKee of Littleton, Colo., walked through the gates of Mile High Stadium on this date in 1993, she had no idea her name would be a part of Colorado Rockies history. As she made her way into the stadium (on Mother's Day, no less), she was celebrated as the 1 millionth fan to walk through the turnstiles to watch the Rockies.
That 1 million mark set a new Major League record for attendance as the Rockies reached it in just 17 home games. That shattered the previous mark set by the Toronto Blue Jays one year earlier in 21 contests.
More from Colorado Rockies History
Of course, that wasn't the only attendance mark the Rockies would set that season. Colorado's fledgling club would also draw the MLB record for the largest Opening Day and single-game crowds (80,227 fans) as well as the largest in a three-game (212,475) and four-game series (251,447). Also, they would not only be the fastest franchise to reach 1 million fans but also set the record for the quickest to 2 million as well, needing just 36 home dates.
Eventually, the Rockies would set an MLB record for attendance that year in a single season which still stands to this day. Colorado would average 55,350 fans per game in 1993 for a total of 4,483,350 people in attendance that year. That's not bad for a team that would go 67-95 and finish sixth in what was then a seven-team National League West, 37 games behind the Atlanta Braves.
The key to Colorado's success then is the same as it is now: Marketing throughout the Mountain Time Zone and having people from states in the region recognize the Rockies as "their team."
""It's the most incredible thing I've ever seen," Colorado manager Don Baylor told the Los Angeles Times that season in this article. "On weekends, we get more people for batting practice than we've drawn for some games on the road. There are 13 states in the Rocky Mountain area, and everyone feels a part of it.""