Are the 2020 Colorado Rockies the second-best NL West team?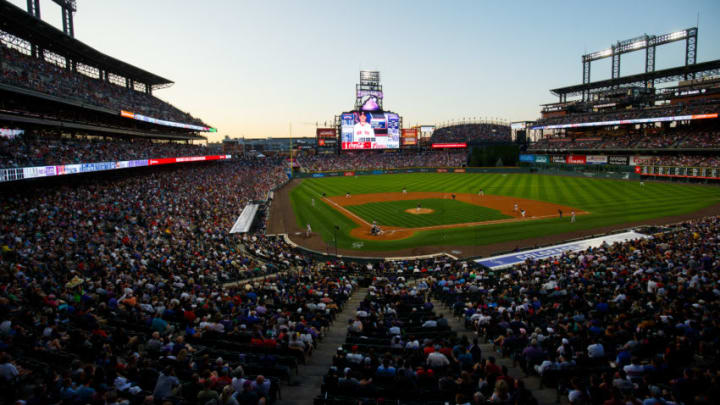 DENVER, CO - AUGUST 27: A general view of the stadium as the Boston Red Sox face the Colorado Rockies at Coors Field on August 27, 2019 in Denver, Colorado. (Photo by Justin Edmonds/Getty Images) /
CHICAGO, IL – OCTOBER 02: The Colorado Rockies celebrate defeating the Chicago Cubs 2-1 in thirteen innings to win the National League Wild Card Game at Wrigley Field on October 2, 2018 in Chicago, Illinois. (Photo by Stacy Revere/Getty Images) /
The 2017 Rockies were the first Rockies team that made the playoffs since 2009. They faced the D'backs in the NL Wild Card Game and lost in a heartbreaker in the desert. The Rockies won the NL Wild Card Game against the Cubs in Wrigley Field in 2018 but they were quickly vanquished by the Milwaukee Brewers in a three-game sweep in the NLDS.
So that we are comparing apples to apples with the two teams to 2020, we looked at each team "26-man roster." The 13 position players are the eight that started the most games at each position and the five bench players are the five players with the most amount of plate appearances. For the pitchers, it is the five pitchers with the most starts that compile the rotation and the eight relievers with the most innings pitched that compile the bullpen.
The 2017 Rockies, who went 87-75 with a Pythagorean W-L of the same record, looked like this:
Starting lineup: 19.1 bWAR
Bench (5 players): -2.1 bWAR
Starting rotation: 13.8 bWAR
Bullpen (8 man bullpen): 7.6 bWAR
Total bWAR of the 26-man roster: 38.4.
Here's the 2018 Rockies, who went 91-72 with a Pythagorean W-L of 85-78:
Starting lineup: 14.9 bWAR
Bench (5 players): -1.8 bWAR
Starting rotation: 19.0 bWAR
Bullpen (8 man bullpen): 5.3 bWAR
Total bWAR of 26-man roster: 37.4
And, once again, here's the projected 2020 Rockies with their 2019 bWAR totals from earlier (71-91 record, 71-91 Pythagorean W-L)
Starting lineup: 16.3 bWAR
Bench (5 players): -2.4 bWAR
Starting rotation: 6.6 bWAR
Bullpen (8 man bullpen): 4.9 bWAR
Total bWAR of 26-man roster: 25.4