Are the 2020 Colorado Rockies the second-best NL West team?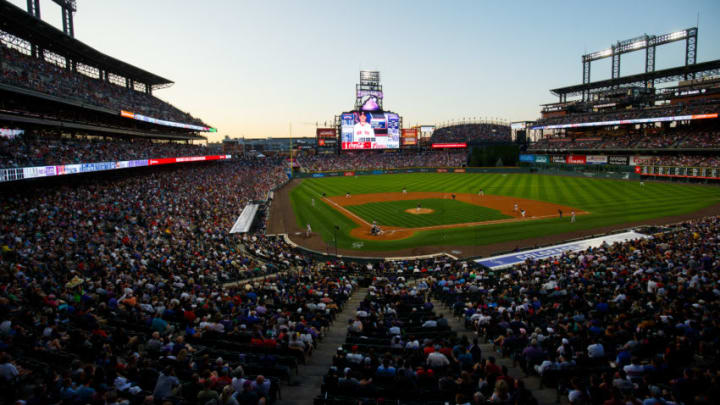 DENVER, CO - AUGUST 27: A general view of the stadium as the Boston Red Sox face the Colorado Rockies at Coors Field on August 27, 2019 in Denver, Colorado. (Photo by Justin Edmonds/Getty Images) /
ST PETERSBURG, FLORIDA – OCTOBER 08: Tommy Pham #29 of the Tampa Bay Rays rounds the bases after his home run against the Houston Astros during the first inning in game four of the American League Division Series at Tropicana Field on October 08, 2019 in St Petersburg, Florida. (Photo by Julio Aguilar/Getty Images) /
The San Diego Padres in win-loss projections and in results last year, were not as good as the D'Backs. They only finished one game back of the Rockies in the NL West last year. They have made some moves this offseason, though, that will make them better if they play like they did in 2019.
This includes the additions of outfielder Tommy Pham, outfielder Trent Grisham, reliever (and former Rockie) Drew Pomeranz, and starting pitcher Zach Davies.
Even with the additions, though, they are not as good as the D'Backs in their 2019 bWAR. The Padres current 26-man projection had a bWAR of 27.1 last year, or 39 percent less than Arizona's 2019 total.
Here's the breakdown of that 27.1 bWAR:
Starting lineup: 13.6 bWAR
Bench (5 players): 1.8 bWAR
Starting rotation: 6.2 bWAR
Bullpen (8 man bullpen): 5.5 bWAR
Comparing to the D'Backs, the lineup is obviously way weaker. The D'Backs projected starting lineup had a 2019 bWAR of 27.4 alone and the Padres don't have that on their entire team. The bench is weaker as is the rotation. The bullpen is a virtual tie.
If you take a look at the Giants projected roster, you probably don't know half of the names anyways and the ones that you do know aren't that good (at least anymore). The total bWAR for that team last year was 14.7, which is less than 0.6 bWAR per player. In other words, a last place team.