Are the 2020 Colorado Rockies the second-best NL West team?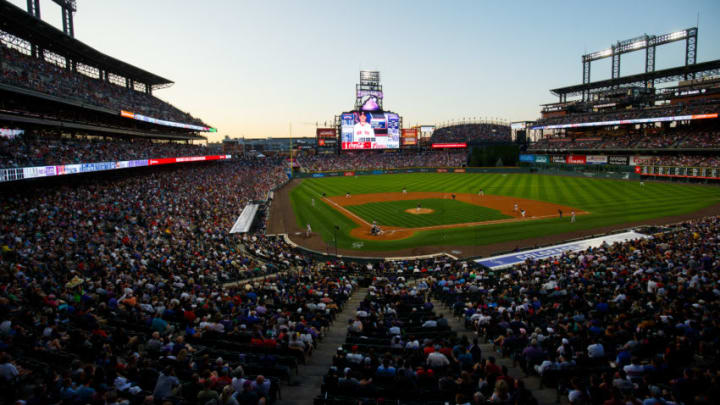 DENVER, CO - AUGUST 27: A general view of the stadium as the Boston Red Sox face the Colorado Rockies at Coors Field on August 27, 2019 in Denver, Colorado. (Photo by Justin Edmonds/Getty Images) /
MILWAUKEE, WISCONSIN – JUNE 30: Starling Marte #6 of the Pittsburgh Pirates celebrates in the dugout with teammates after scoring in the first inning against the Milwaukee Brewers at Miller Park on June 30, 2019 in Milwaukee, Wisconsin. (Photo by Quinn Harris/Getty Images) /
After the Arizona Diamondbacks traded for outfielder Starling Marte from the Pittsburgh Pirates, I decided to delve into the numbers a bit on the D'backs.
They won 85 games last year and that's after they traded Zack Greinke to Houston at the trade deadline. They also traded away their franchise stalwart, Paul Goldschmidt, to St. Louis last offseason.
So, I looked at their projected 26-man roster (remember, it will be 26, not 25, starting this year) with Marte. Here's what will likely be their 26-man roster projection, per Roster Resource.
If you just use Baseball Reference for each of those 26 players WAR totals (it's slightly different with FanGraphs WAR), their WAR in 2019 was 44.1, which is a pretty good number.
Here's the breakdown of that 44.1 bWAR:
Starting lineup: 27.4 bWAR
Bench (5 players): 2.9 bWAR
Starting rotation: 8.1 bWAR
Bullpen (8 man bullpen): 5.7 bWAR
If you look more in depth, the bullpen is weakest as they didn't have any huge strength. They also didn't have any huge weakness. In fact, all of the eight relievers had a bWAR between 0.4 and 1.0. Not a single one of the players on the 26-man projected roster posted a negative bWAR season last year.
In addition, they have David Peralta, who posted a WAR of 1.9 in only 99 games as well as starters Zac Gallen and Luke Weaver, who posted WARs of 1.3 and 1.7. That was only in eight starts and in 12 starts so if the D'Backs can get that production in a full season, that make the D'Backs even better.