Are the 2020 Colorado Rockies the second-best NL West team?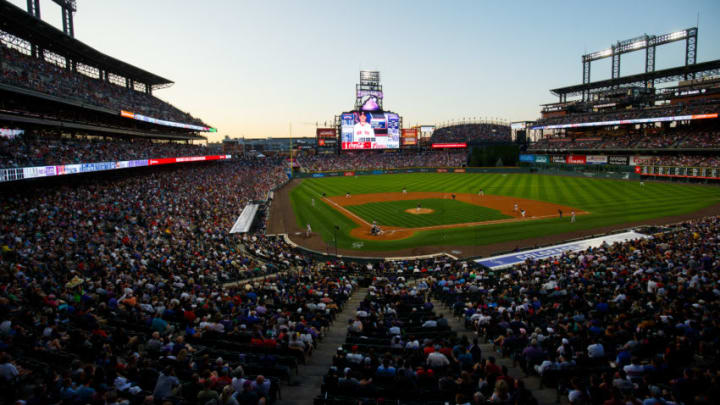 DENVER, CO - AUGUST 27: A general view of the stadium as the Boston Red Sox face the Colorado Rockies at Coors Field on August 27, 2019 in Denver, Colorado. (Photo by Justin Edmonds/Getty Images) /
SAN FRANCISCO, CALIFORNIA – SEPTEMBER 25: Nolan Arenado #28 of the Colorado Rockies reacts and tosses his helmet away after striking out swinging against the San Francisco Giants in the top of the seventh inning at Oracle Park on September 25, 2019 in San Francisco, California. (Photo by Thearon W. Henderson/Getty Images) /
Heading into 2020, the Colorado Rockies are at a bit of a crossroads. Will they reach the playoffs like they did in 2017 and 2018 or are they truly closer to what they were in 2019: a fourth-place team?
After a dreadful 2019 season in which the Colorado Rockies suffered a slew of injuries and numerous down seasons from players, the Rockies have not done a thing this offseason. Well, at least on the major league free agent or trade front.
In fact, with the Chicago Cubs signing outfielder Steven Souza, Jr. to a one-year deal, the Rockies are the only MLB team not to sign a free agent to a major league contract this offseason. That, however, did not stop team owner Dick Monfort from predicting the Rockies would win a franchise-record 94 games in 2020.
That is likely part of the reason why Nolan Arenado is not happy with Jeff Bridich and company: his contract, at least to most people, looks like it has hamstrung the franchise financially, when Arenado signed the deal with the caveat that it would not do that.
The biggest problem is that if you look at the team objectively, they really need to improve many aspects of it.
FanGraphs 2020 projections have the Rockies as 29th at catcher and first base, 27th at second base, dead last in left field, 26th in center field, 17th in right field, 20th in starting pitching, and 20th in relief pitching. The only two positions in which the Rockies are in the top half are at third base and shortstop, with Nolan Arenado and Trevor Story.
However, those are only projections. In both 2017 and 2018 when the Rockies made the playoffs, FanGraphs (and many others) projected the Rockies being under .500.
So instead of projections, let's look at how each of the NL West teams look heading into 2020 with looking at their 2019 WARs and a look back at 2017 and 2018 for the Rockies, when they made the playoffs.