Colorado Rockies: The State of the franchise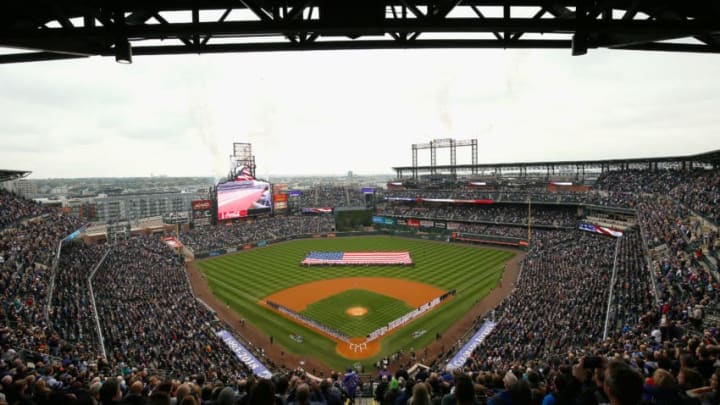 DENVER, CO - OCTOBER 07: A general view of Coors Field before the start of Game Three of the National League Division Series between the Milwaukee Brewers and the Colorado Rockies on October 7, 2018 in Denver, Colorado. (Photo by Justin Edmonds/Getty Images) /
DENVER, CO – AUGUST 6: Kyle Freeland #21 of the Colorado Rockies celebrates after the third out of the seventh inning of a game against the Pittsburgh Pirates at Coors Field on August 6, 2018 in Denver, Colorado. (Photo by Dustin Bradford/Getty Images) /
The state of the starting pitching staff is as good as it has been in franchise history.
Kyle Freeland will look to improve on a season in which he came in 4th in the NL Cy Young voting. He went 17-7 with a 2.85 ERA (164 ERA+) in 202 1/3 innings. Compared to 2017, he dropped his walk rate from 3.6 per nine innings to 3.1 and he raised his strikeout rate from 6.2 per nine innings to 7.7. In the Wild Card game, he only allowed four hits in 6 2/3 shutout innings. He arguably could have gone even longer as he was only at 82 pitches.
German Marquez pitched 196 innings in 2018 and went 17-11 with a 3.77 ERA (124 ERA+). Between 2017 and 2018, his walk rate slightly dropped from 2.8 to 2.7 per nine innings but he nearly raised his strikeout rate nearly 30 percent from 8.2 to 10.6 per nine innings. His FIP was even better than his ERA at 3.40. MLB.com even recently named him as a dark horse Cy Young award candidate in 2019.
The Rockies still do have some questions in the rotation in Jon Gray (who had a very inconsistent 2018 season that even saw him see a few week stint in Triple-A Albuquerque), Tyler Anderson (who pitched to a 3.57 ERA and an opponent slash line of .229/.295/.399 in his first 21 starts but pitched to a 6.71 ERA and a .288/.339/.548 in his final 11 starts).
Vying for the fifth starter spot is Chad Bettis, who pitched to a 5.01 ERA in 27 games (20 starts) in 2018 with a walk rate that went from 2.1 per nine innings in 2017 to 3.5 in 2018, and Antonio Senzatela, who pitched to a 4.38 ERA in 23 games (13 starts) with walk and strikeout rates virtually staying steady between 2017 and 2018.