The non-fact-based state of free agency and the Colorado Rockies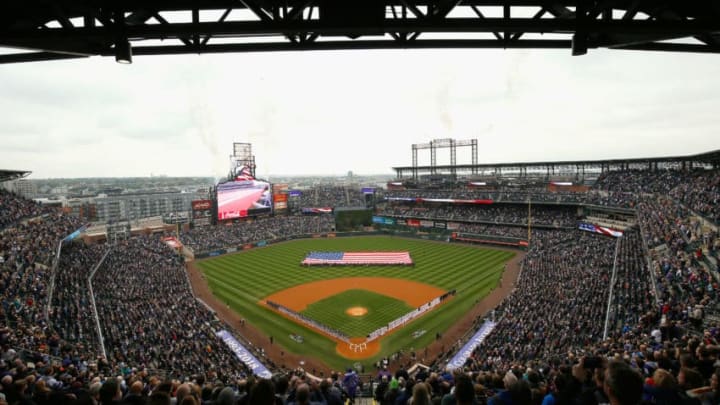 DENVER, CO - OCTOBER 07: A general view of Coors Field before the start of Game Three of the National League Division Series between the Milwaukee Brewers and the Colorado Rockies on October 7, 2018 in Denver, Colorado. (Photo by Justin Edmonds/Getty Images) /
SAN FRANCISCO, CA – SEPTEMBER 14: Evan Longoria #10 of the San Francisco Giants throw to first base off balance throwing out Trevor Story #27 of the Colorado Rockies in the top of the fourth inning at AT&T Park on September 14, 2018 in San Francisco, California. (Photo by Thearon W. Henderson/Getty Images) /
"It's not your money, it's money that players have worked their whole lives to get to that level and be deserving of."
This is a mind bogglingly ignorant statement from Longoria.
IT IS YOUR MONEY! You pay for tickets, team gear, and even pay to watch them on TV or online. You may have been one of the nearly 30,000 people that paid an average of just over $26 per ticket (for the 2018 season) to watch Longoria get a golden sombrero (aka strike out four times) against the Rockies on the Wednesday after Memorial Day or watch him and the Giants take on the Rockies at Coors Field two days prior on Memorial Day, a day that he would go 3-for-5 with 3 RBI.
Maybe you even decided to take a trip to San Francisco to watch Longoria and the Giants in May, June, or September and face the Rockies last year where you paid for at least one ticket that is, on average, more than 47 percent higher than a ticket at Coors Field.
But Longoria apparently doesn't believe that your money goes to the team, which means go to the owners…who paid Longoria about $10 million last year (plus another $3.5 million or so paid by the Tampa Bay Rays, his former team). If contracts go up, the owners have to change something to keep their profits (after all, that's why they own a team) at the same margin. That goes to you, as ticket and merchandising prices, as a result, go up.