The non-fact-based state of free agency and the Colorado Rockies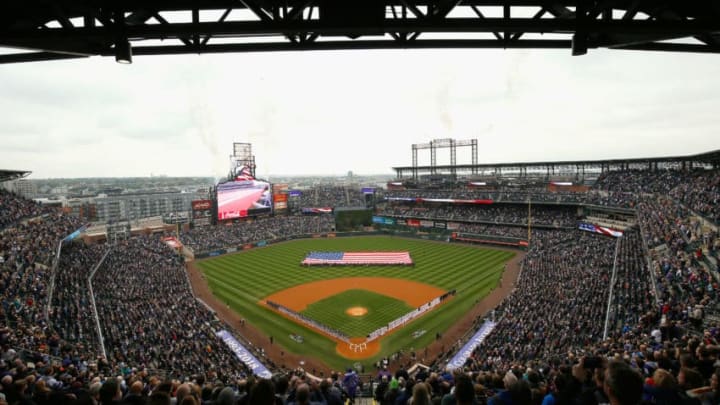 DENVER, CO - OCTOBER 07: A general view of Coors Field before the start of Game Three of the National League Division Series between the Milwaukee Brewers and the Colorado Rockies on October 7, 2018 in Denver, Colorado. (Photo by Justin Edmonds/Getty Images) /
CHICAGO, IL – OCTOBER 02: Kris Bryant #17 of the Chicago Cubs reacts after striking out in the first inning against the Colorado Rockies during the National League Wild Card Game at Wrigley Field on October 2, 2018 in Chicago, Illinois. (Photo by Stacy Revere/Getty Images) /
Bryant also added that "it's not about greed."
Well then, Kris, if it's not about turning now a total of a half of billion dollars combined between the two, what is it about? Perhaps it's that they don't want to play for the Nationals or White Sox?
Let's say, for the sake of argument, that's the case.
Who's fault is that?
It's not the market, it's not the owners or front office executives (for at least two teams). It's not the fans (more on you, the fans, in a minute). It's the player's fault and, potentially, the agent's fault (if they think their client can get $300+ million and fall short). If you turn that down and get something better, that's fantastic but don't complain when you get burned. If you don't want to fix the problem with a solution, don't complain about the "problem."
Evan Longoria's comments
The other comments were made by Longoria, who I personally have more of an issue with.
Starting at the beginning, he said that some of the best players haven't signed yet and it was "[s]uch a shame" that they haven't.
Again, as I just pointed out, who's fault is that? It's not the owners, front office executives, or their fan's faults. It's the player's and agent's fault.
Secondly, he said "It's (sic) seems every day now someone is making up a new analytical tool to devalue players, especially free agents."
Just because Longoria is aging an becoming a worse player with a contract that is part of the reason why team's have become a lot smarter and paid their franchise players in their prime (e.g. Nolan Arenado will make somewhere at or just below $30 million this year and the Rockies extended him to a deal that was very player friendly contract at the beginning of his arbitration eligible years) instead of paying them when they are a shell of themselves when they are 35 years old and older.