The non-fact-based state of free agency and the Colorado Rockies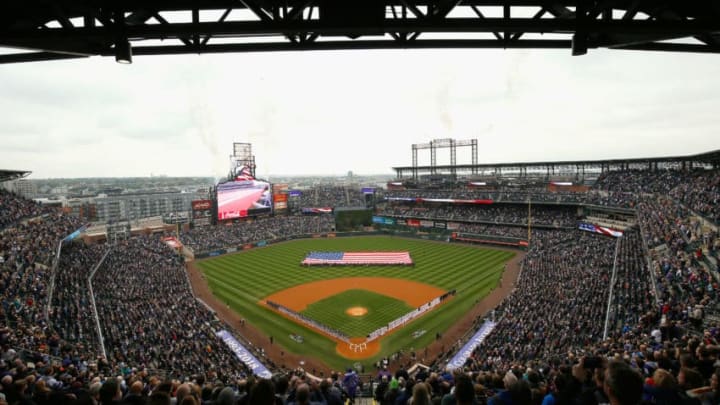 DENVER, CO - OCTOBER 07: A general view of Coors Field before the start of Game Three of the National League Division Series between the Milwaukee Brewers and the Colorado Rockies on October 7, 2018 in Denver, Colorado. (Photo by Justin Edmonds/Getty Images) /
CHICAGO, IL – SEPTEMBER 30: Kris Bryant #17 of the Chicago Cubs hits a two run double in the fifth inning against the St. Louis Cardinals at Wrigley Field on September 30, 2018 in Chicago, Illinois. (Photo by Andrew Weber/Getty Images) /
Bryant said "If I were an owner, president or GM, I'd love to have Bryce Harper or Manny Machado on my team."
Here, he's absolutely correct. Most of the 30 teams would like to have them…for the right cost. For the right price, team's would get over Machado's antics in the 2018 playoffs (including not being "the type of player that's going to be 'Johnny Hustle,' in his words to Ken Rosenthal of The Athletic), attempting to throw a bat a pitcher five years ago, and other instances that I'm probably forgetting.
Teams would also put aside Harper's tendency to be "controversial like A-Rod," including fights with teammates and 12 other MLB players said Harper had it coming to him and another one said on Twitter, in regards to that same situation that he was part of the "#EntitlementGeneration."
It should be noted that Harper could be signed by his former team, the Washington Nationals, right at this moment. As you may or may not remember, he was offered a 10 year contract for $300 million at the end of the season…and Harper declined the offer flatly. Now, at this juncture, he's likely not to receive an offer close to that.
Machado was offered a deal "thought to be around $200 million" by the Chicago White Sox, who have recently signed Machado's brother-in-law Jon Jay to a free agent deal and traded for his best friend, Yonder Alonso, this offseason. Yet, he has not accepted their offer.