The non-fact-based state of free agency and the Colorado Rockies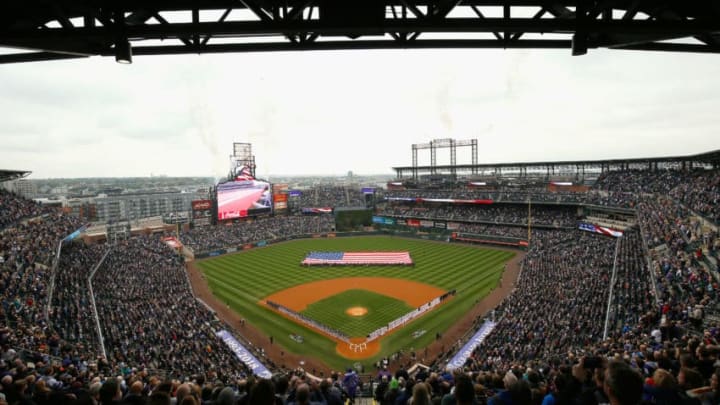 DENVER, CO - OCTOBER 07: A general view of Coors Field before the start of Game Three of the National League Division Series between the Milwaukee Brewers and the Colorado Rockies on October 7, 2018 in Denver, Colorado. (Photo by Justin Edmonds/Getty Images) /
CHICAGO, IL – OCTOBER 02: Trevor Story #27 of the Colorado Rockies turns a double play after forcing out Kris Bryant #17 of the Chicago Cubs at second base in the sixth inning during the National League Wild Card Game at Wrigley Field on October 2, 2018 in Chicago, Illinois. (Photo by Stacy Revere/Getty Images) /
This weekend, two players (one with the Colorado Rockies' 2018 Wild Card opponent and one with a Rockies divisional rival) opined on the state of the free agent market. As you may expect, both players took a predictable stance that is pro-player. That doesn't mean that their stance is based on fact.
Fellow third basemen Kris Bryant of the Chicago Cubs and Evan Longoria of the San Francisco Giants both made comments on the free agent market, which has been slow for much of the offseason.
According to Jesse Rogers of ESPN Chicago, Bryant said this on Friday at the Cubs Convention:
""It's really weird. Two of the best players in the game, and they have very little interest in them, from just what I hear. It's not good. It's something that will have to change. I know a lot of the other players are pretty upset about it." "There's a lot of teams out there that have the money to spend, but they're not doing it," Bryant said. "It's very confusing to me. If I was an owner, president or GM, I'd love to have Bryce Harper or Manny Machado on my team." "You work for that moment in your career," Bryant said. "You feel like every team should want you. For them to not have that, it could be disheartening for them. …It's not about the greed. They've put in the work to warrant contracts that are worthy of it.""
Evan Longoria posted this on Instagram:
As with any player or person in general, they can have their opinion…but it doesn't mean that their opinions are based in fact.
The simple fact of the matter is that both Bryant and Longoria are wrong…or at least ignorant of how free markets work in baseball.
Bryant and Longoria said very similar things but let's discuss Bryant first.