Colorado Rockies: Drawing parallels between the Rockies and Red Sox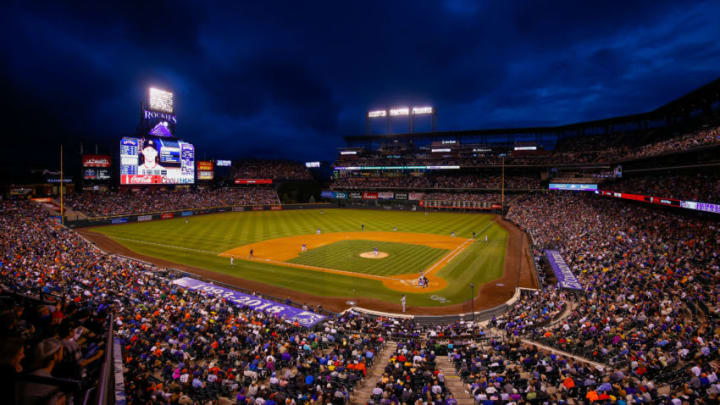 DENVER, CO - JULY 25: A general view of the stadium as the Colorado Rockies take on the Houston Astros during interleague play at Coors Field on July 25, 2018 in Denver, Colorado. The Rockies defeated the Astros 3-2. (Photo by Justin Edmonds/Getty Images) /
BOSTON, MA – OCTOBER 31: The World Series trophy is hoisted in the air during the 2018 World Series victory parade for the Boston Red Sox on October 31, 2018 in Boston, Massachusetts. (Photo by Adam Glanzman/Getty Images) /
The Boston Red Sox were the World Champs for 2018. They deserved it. They were the best team in baseball from Spring Training to Game five of the World Series, and it showed.
While the Red Sox did spend some money in free agency over the last few years, they still drafted or signed international and developed or traded for players that performed in the biggest moments. Even though they're a massive market and have the aura of being "The Boston Red Sox," them winning tells the little(r) guys that they don't solely have to spend big money to win championships.
I'll go through the players on this Red Sox team that were drafted/signed internationally/traded from the 25-man roster for the 2018 World Series.
International: Xander Bogaerts, Rafael Devers
Trade: Brock Holt, Joe Kelly, Chris Sale, Steve Pearce, Rick Porcello, Nathan Eovaldi, Drew Pomeranz, Eduardo Núñez, Sandy Leon, Craig Kimbrel, Ian Kinsler, Heath Hembree,
Draft: Andrew Benintendi, Jackie Bradley Jr., Christian Vazquez, Blake Swihart, Mookie Betts, Matt Barnes, Eduardo Rodriguez
Free Agents: David Price, J.D. Martinez, Ryan Brasier (minor league free agent), Mitch Moreland
Okay, yes, the Red Sox did spend big money to put this team together, but its not like the Rockies haven't spent any money. The Red Sox, on outside of the organization free agents, have spent about $335 million (Brasier, Moreland, Martinez, Price), whereas the Rockies have only spent roughly $233 million, and that's not including Jake McGee or Charlie Blackmon considering that they were re-signed on the free agent market or extended.