What will the 2019 Colorado Rockies possibly look like?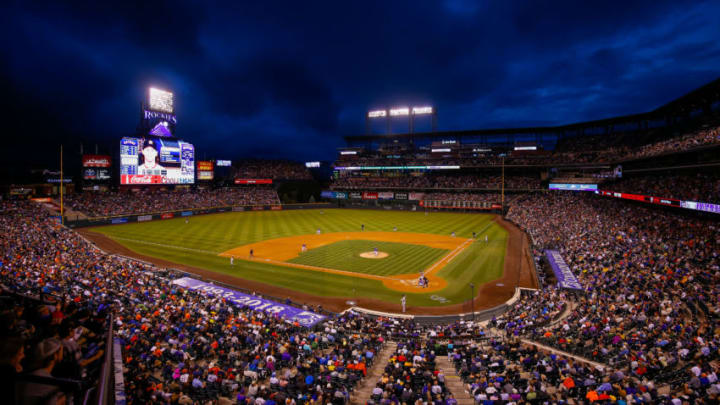 DENVER, CO - JULY 25: A general view of the stadium as the Colorado Rockies take on the Houston Astros during interleague play at Coors Field on July 25, 2018 in Denver, Colorado. The Rockies defeated the Astros 3-2. (Photo by Justin Edmonds/Getty Images) /
WASHINGTON, DC – JULY 15: Brendan Rodgers #1 of the Colorado Rockies and the U.S. Team makes a play during the SiriusXM All-Star Futures Game at Nationals Park on July 15, 2018 in Washington, DC. (Photo by Patrick McDermott/Getty Images) /
After posting a solid .835 OPS for AA Hartford this season Rodgers has struggled with his first taste of the AAA level. Despite these struggles, Rodgers is clearly the player that the Rockies would like to see take the job if LeMahieu leaves. The natural shortstop brings a tantalizing combination of contact hitting, power hitting, speed, and arm strength to the field, plus he's cut down on both his errors and his strikeouts this season.
It's possible that the team will let DJ walk, bequeathing the position to Rodgers (after a month or so in AAA in order to delay his service clock). Doing so would almost undoubtedly hurt the team in 2019 as Rodgers adjusts to the league, however, it may also save the team tens of millions of dollars – money that could be used to sign a certain other infielder that we'll discuss soon.
Also, potentially hitting the market is Adam Ottavino, owner of a frisbee slider and the 220 ERA+. As unbelievable as Otto has been this year, it cannot be understated how important he's been to this club's success over the last six seasons overall. He's now fifth all-time in appearances for Rockies pitchers and has even worked his way to 10th in total strikeouts – a remarkable feat for a middle reliever.
The club has a rare depth in the bullpen, and certainly there will be other relief arms available in the offseason, however none of them are as good as Ottavino, and none of them are Coors Field-tested. Look for the team to do what they can to retain him, however other GM's have noticed Ottavino by now and his slider is a fit in any team's bullpen.
Carlos Gonzalez is also a free agent after the season and as painful as this is to admit, he is far less crucial to the team's overall success. The team has other outfielders, especially lefties, and his loss could more easily be papered over.
That said, he has had a nice rebound season and has provided value in the field, on the plate, and in the clubhouse. Perhaps the team could retain him with another team-friendly one or two-year contract.