Colorado Rockies: Carlos Gonzalez outperforming contract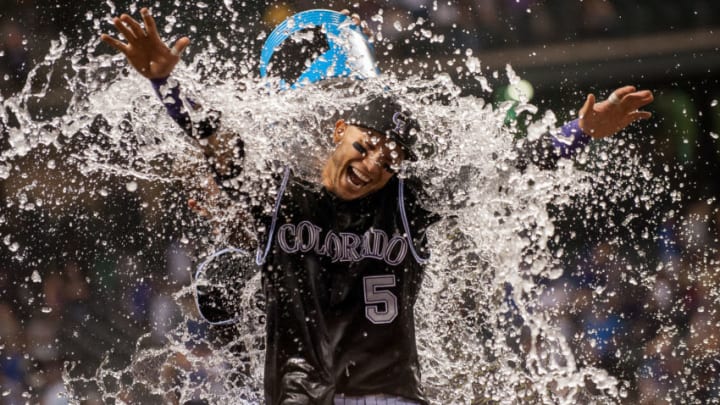 DENVER, CO - SEPTEMBER 26: Carlos Gonzalez #5 of the Colorado Rockies is drenched by a teammate after hitting a walk-off 2-run home run to put the Rockies ahead of the Dodgers 8-6 at Coors Field on September 26, 2015 in Denver, Colorado. (Photo by Dustin Bradford/Getty Images) /
Carlos Gonzalez as a Colorado Rockies player /
Just one year off from one of the worst seasons of his career, Carlos Gonzalez is finding a resurgence with the Colorado Rockies. Finding his swing once more, Gonzalez is proving to be a valuable team asset in their push to Rocktober.
A decade ago, the Colorado Rockies shipped off one of their diamond pieces in Matt Holliday, garnering a package which included Carlos Gonzalez. At the time, Rockies fans were genuinely upset at the club for making the trade. Now, years later, Carlos Gonzalez is a household name for the Coors faithful, and an essential staple in team history.
The Rockies signed Gonzalez to a mega-extension after the 2010 season, locking him up for, at the time, the next seven years. The deal paid Gonzalez $80 million, and for a guy who came off the season before having slashed .336/.376/.598 with a wOBA of .413, a wRC+ of 144, and a 5.8 WAR, the deal became a steal.
Over the course of the extension, Gonzalez posted pretty solid numbers. His .284 batting average was respectable. However, it was his .363 wOBA and 113 wRC+ which stands out over the course of over 850 games. Now, coming off a down year in which he severely underperformed, Gonzalez has found his renaissance with the team.
Early struggles
For Rockies fans, the expectation for Carlos Gonzalez hardly existed heading into this season. Many fans, to be honest, expected the team to move on and frankly found themselves frustrated when that failed to seem to be the case. The club brought Gonzalez back on a 1-year/$5 million contract, with the incentive to push it to $8 million total.
Gonzalez struggled out of the gate, which nobody saw as a surprise. Through the first three months of the season, Gonzalez batted a paltry .268 with seven home runs and 29 RBI. He posted a slightly above-average wOBA of .321, but struggled with a porous below-average 84 wRC+.
Gonzalez posted 56 strikeouts to only 17 walks in 232 plate appearances, leading to a strikeout percentage of 24.1%, an increase from this point last season of nearly four percent. Needless to say, as the flow of the game goes, players go with their team. The Rockies finally found their stride once again as Gonzalez finally began to heat up.