The Colorado Rockies and the portrait they're painting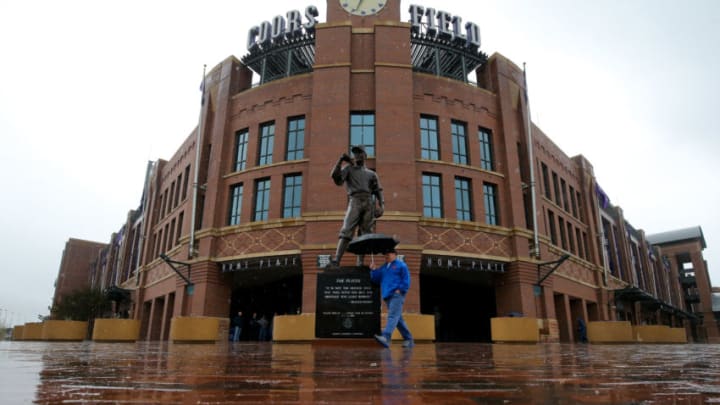 DENVER, CO - APRIL 26: A fan walks outside of Coors Field as the rain falls on April 26, 2015 in Denver, Colorado.The game between the San Francisco Giants and Colorado Rockies has been postponed due to rain. (Photo by Justin Edmonds/Getty Images) /
SAN FRANCISCO, CA – MAY 18: Ian Desmond #20 of the Colorado Rockies hits an rbi double scoring Nolan Arenado #28 against the San Francisco Giants in the top of the six inning at AT&T Park on May 18, 2018 in San Francisco, California. (Photo by Thearon W. Henderson/Getty Images) /
The one thing that really keeps me up while thinking about the Colorado Rockies is what happened this offseason. The one guy I truly believed they should've signed was Mark Reynolds. Yet the months of the offseason flew by and there wasn't even a whisper when it came to Reynolds. It's baffling that Colorado didn't offer this guy a contract with the season he had.
If you have a player that not only fulfills an issue at a defensive position, but also can keep up with the team's top two hitters the entire season: why not re-sign him? Mark Reynolds would've made the difference this season, and to think about the "what if's" if he had been given the same contract CarGo has right now, where'd the Rockies be?
As I continue my "tirade," let's just go ahead and get Ian Desmond out of the way. First and foremost, I love Ian Desmond as a person. He's an all around great guy, but when it comes to baseball, I just have to rip the guy to shreds. He might be the biggest free agent signing bust in years. This guys somehow got the Colorado Rockies to give him $70 million, for what exactly I'm not sure.
Now there was of course where Ian Desmond was a good player and deep down I hope that that guy is still there and we're just waiting for him to come into the light, but we have to draw the line somewhere. There has got to be some type of adjustments made in order for him to have better at-bats. However, the worse part about this whole situation is that Colorado most likely has no plans to bench him. I do understand that they don't want to bench $70 million, but when does it end?