The Colorado Rockies and the portrait they're painting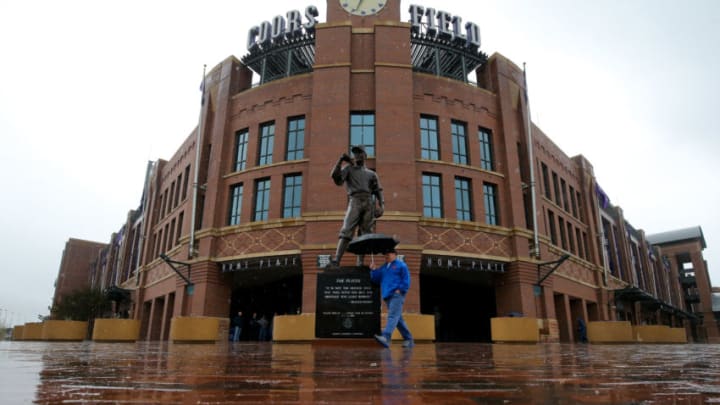 DENVER, CO - APRIL 26: A fan walks outside of Coors Field as the rain falls on April 26, 2015 in Denver, Colorado.The game between the San Francisco Giants and Colorado Rockies has been postponed due to rain. (Photo by Justin Edmonds/Getty Images) /
DENVER, CO – MAY 09: David Dahl #26 of the Colorado Rockies hits a double in the third inning against the Los Angeles Angels of Anaheim at Coors Field on May 9, 2018 in Denver, Colorado. (Photo by Matthew Stockman/Getty Images) /
The only things that have stuck so far are call-ups David Dahl and Noel Cuevas, but that's only two guys on the bench. Colorado can't just depend on these two men to carry that entire bench, but at this rate that's what'll be happen until the end of the season. 
I'd like to say the real concerns started, in my opinion, back when they re-signed Carlos Gonzalez. This guy struggled all of 2017 and then towards then of the season he picked up his game. Honestly that was too little too late especially being that it was a contract season. Though the front office went against their better judgment and signed him for reasons we all know why. Now they have Cargo in the lineup playing the exact same way as last season.
Though in the eyes of some it's okay, but only when he randomly hits a home run then it's vintage Carlos Gonzalez and all is forgiven while he trots the bases. The double-standard for this guy is uncanny though perhaps it won't linger as we get closer to the end of the season. Hopefully his bat finds some life because the way I see it there isn't anything that he can or in this case can't do for him to be benched.