The Colorado Rockies and the portrait they're painting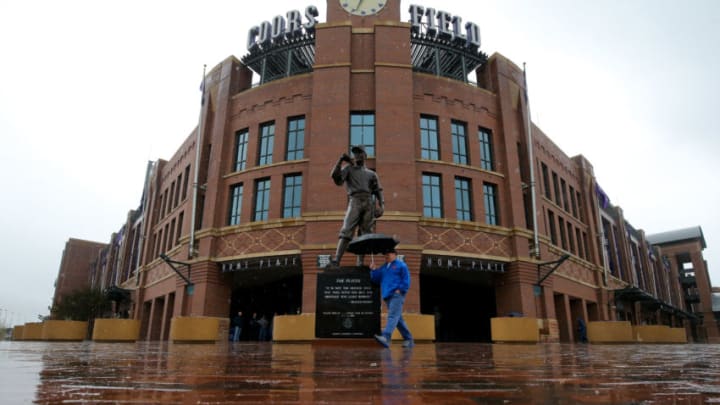 DENVER, CO - APRIL 26: A fan walks outside of Coors Field as the rain falls on April 26, 2015 in Denver, Colorado.The game between the San Francisco Giants and Colorado Rockies has been postponed due to rain. (Photo by Justin Edmonds/Getty Images) /
DENVER, CO – APRIL 26: A fan walks outside of Coors Field as the rain falls on April 26, 2015 in Denver, Colorado.The game between the San Francisco Giants and Colorado Rockies has been postponed due to rain. (Photo by Justin Edmonds/Getty Images) /
The Colorado Rockies want to be a team that's a force to be reckoned with. However, they've essentially gone about making that happen in all the wrong ways. If they keep going down they road they are, it will only lead to a lackluster season in the end. 
First place in the NL West used to be a highly coveted position to have in such a competitive division. I don't mean to say it isn't anymore, but with the Colorado Rockies record compared to other divisions, how much weight does it really carry? The Rockies are currently 28-25. That isn't a good record to have, especially for a team in first place in the NL West.
However, that doesn't stop my fellow Rockies fans from being happy that they're in first place. Of course, we'd all like to see them have a better record, like the Boston Red Sox or the Milwaukee Brewers, but that's just not going to happen for Colorado right now. 
You're probably wondering why not. Well here's the deal, the Colorado Rockies are doing nothing. Some may understand right off the bat by what I mean when I say nothing others may not. When I say nothing I mean they are doing absolutely nothing to help themselves push forward to contention. They've barely made roster moves and some haven't done the team well. It's as if the Rockies are throwing mud at the wall and waiting to see what sticks.