Colorado Rockies vs. Atlanta Braves: Could rain be in the forecast?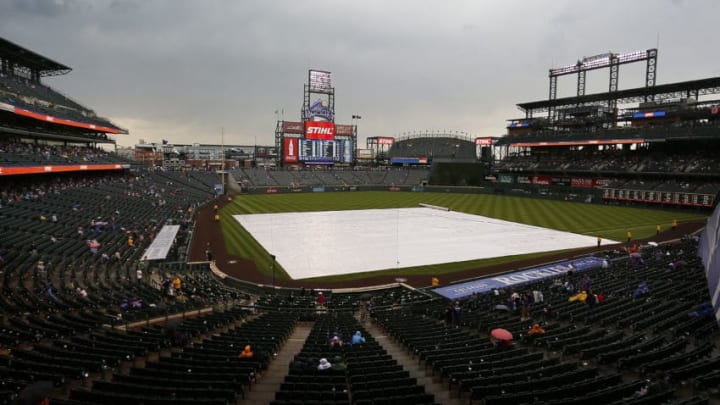 DENVER, CO - SEPTEMBER 17: The tarp sits on the field during a rain delay in the fifth inning of a regular season MLB game between the Colorado Rockies and the visiting San Diego Padres at Coors Field on September 17, 2017 in Denver, Colorado. (Photo by Russell Lansford/Getty Images) /
On Friday, the Colorado Rockies and Atlanta Braves played through snow and the coldest temperatures ever for a home opener in Denver. On Saturday night, the two teams may once again have to deal with anything but optimal conditions.
A storm carrying the potential for rain during the Rockies-Braves Saturday night game is slated to move into the Denver area during the middle stages of the contest. Before the game, snow was falling in the Rocky Mountains (roughly 60-90 minutes from Coors Field) and moisture could be seen on radar crossing over the mountains and slowly creeping its way toward Denver.
While a mix of sun and clouds greeted Rockies fans as they entered Coors Field on Saturday night, it might be wise to keep something handy to stay dry as the evening wears on.
Take a look at this information from @RockiesWX, a contributor to Rox Pile and a great follow for the latest weather details on Twitter.
The game is scheduled to start on time (6:10 p.m. Mountain time) with the following lineups
Atlanta Braves
Ender Inciarte, CF
Ozzie Albies, 2B
Freddie Freeman, 1B
Nick Markakis, RF
Preston Tucker, LF
Dansby Swanson, SS
Ryan Flaherty, 3B
Carlos Perez, C
Colorado Rockies
Charlie Blackmon, CF
DJ LeMahieu, 2B
Nolan Arenado, 3B
Carlos Gonzalez, RF
Ian Desmond, 1B
Gerardo Parra, LF
Trevor Story, SS
Tony Wolters, C
Chad Bettis, P
Having the Atlanta-Colorado matchup at Coors Field and Colorado starter Chad Bettis on the mound brings back memories of the right-hander's emotional return to the mound after battling testicular cancer last season. His return was a success, both emotionally and in the scorebook as Bettis pitched seven scoreless innings.
More recently, Atlanta grabbed the first game of the three-game series on Friday as pitcher Brandon McCarthy kept the Rockies off-balance at the plate and added a two-run double as part of a fifth-inning Atlanta spurt that would prove to be the difference in an 8-3 Braves win.
Next: Reliving Snowpening Day at Coors Field
Stay tuned for weather updates here if rain moves into the area.