Colorado Rockies morning after: The grade book on home opener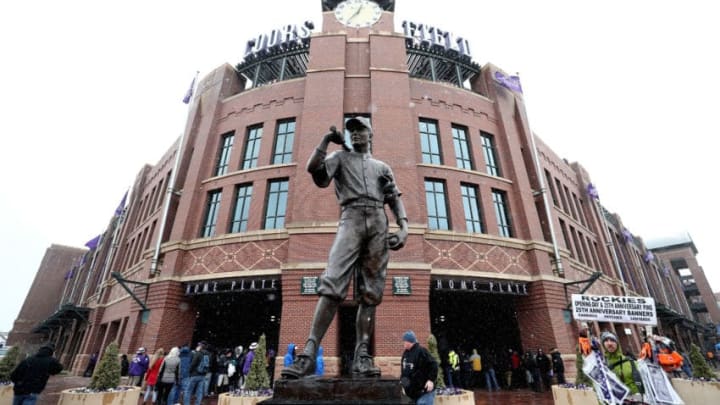 DENVER, CO - APRIL 06: Fans enter the stadium before the Colorado Rockies home opener against the Atlanta Braves at Coors Field on April 6, 2018 in Denver, Colorado. (Photo by Matthew Stockman/Getty Images) /
PHOENIX, AZ – MARCH 31: Trevor Story. Getty Images. /
B
Book 2, Chapter 1 for Story – Trevor Story launched his first bomb of the year into the left-center field seats in the fourth inning. The ball was a no doubter, traveling 442 feet, which is saying something considering it had to fly through Christmas weather on its way out. Trevor finished the afternoon 1-4 with the home run and two strikeouts.
25th Anniversary Uniforms – The Rockies finally unveiled their new 25th Anniversary hats on Friday, which feature a silver-only CR logo on the front (no purple) as well as a silver knob up on top and a patch on the side of the hat commemorating the anniversary. As with all their jerseys this season, the right sleeve boasts the same patch. I give it a B because I miss the purple a bit on the hats, but they are otherwise very sharp.
C
The Opening Day Experience – Even before first pitch, there was somewhat of a damp blanket hanging over all the revelry and excitement of Opening Day –literally. Not only did the weather force at least half the crowd to run for cover on the concourses for most of the game, but its hard to enjoy things like a giant new video board or the pre-game awards ceremony when its 25 and snowing. We will hope for better weather at 20th & Blake in the coming days.
Team Offense – Aside from CarGo's two run-scoring hits and Trevor Story's home run, the lineup went 4-31. Nolan had two of those 4 hits and the only stolen base attempt, which was successful mostly due to the fact that they didn't react or throw the ball down to 2nd. Normally, a 3 run performance at Coors Field would receive a worse grade, but I'll score it on a curve this once, for the weather.