Colorado Rockies morning after: The grade book on home opener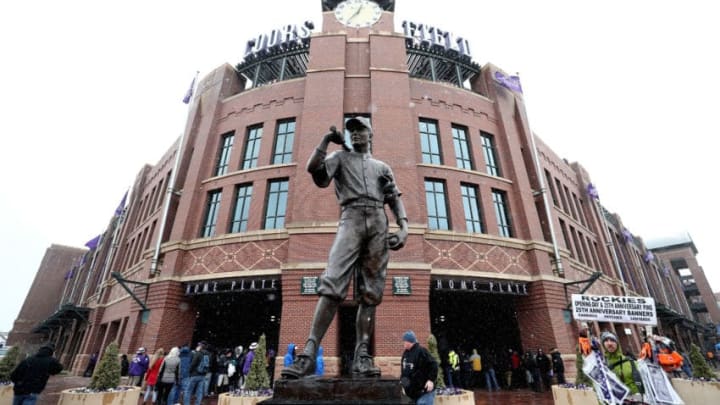 DENVER, CO - APRIL 06: Fans enter the stadium before the Colorado Rockies home opener against the Atlanta Braves at Coors Field on April 6, 2018 in Denver, Colorado. (Photo by Matthew Stockman/Getty Images) /
DENVER, CO – APRIL 06: Carlos Gonzalez #5 of the Colorado Rockies beats the tag of third baseman Ryan Flaherty #27 of the Atlanta Braves for a RBI triple in the first inning at Coors Field on April 6, 2018 in Denver, Colorado. (Photo by Matthew Stockman/Getty Images) /
After opening the 2018 season with 7 games on the road, the Colorado Rockies finally returned home Friday afternoon to break in Coors Field and celebrate their 25th Anniversary as a team.  If it was anything like breaking in a baseball glove, the weather did not help. Extremely cold air and snow drifted across the Denver area on and off throughout the day. By the time first pitch rolled around, delayed an hour by snow and rain, the temperature was in the high 20s, with the windchill holding even colder than that. Eventually, however, the home nine were able to take the field and take on the Atlanta Braves for game one of 81 at home.
The Braves jumped all over German Marquez early, with Ozzie Albies sending the sixth pitch of the ballgame over the auxiliary scoreboard in right for a home run. They didn't ease up, and after a couple walks, an RBI popup single and a two run triple, the Rockies found themselves down 4-0 before they even grabbed a bat.
They would answer in the bottom half of the inning with a run produced by a blistered, vintage RBI triple from Carlos Gonzalez. The chipping away continued in the fourth with two solo blasts from CarGo and Trevor Story to pull within a run.
All the while, German Marquez put the nightmare of a first inning behind him and navigated the next three innings scoreless before once again getting beat up in the 5th. The nail in Marquez's coffin was a 2 run double by his opposite number, pitcher Brandon McCarthy, that extended the Braves lead back to four at 7-3.
From that point on, the Rockies bullpen surrendered just one run the remainder of the game, on a Freddie Freeman single in the sixth inning. The offense, however, couldn't get anything going offensively after their fourth inning burst, and ultimately fell 8-3 after an uneventful and fast moving final three innings on a cold day in Denver. Brandon McCarthy gets the win and moves to 2-0, while German Marquez takes the L and falls to 0-1 on the season.
Without further ado, let's crack open the grade book to get a better idea of the good, bad and ugly from Friday's frigid Home Opener.