Colorado Rockies 2018 Pitching Situation: The Starters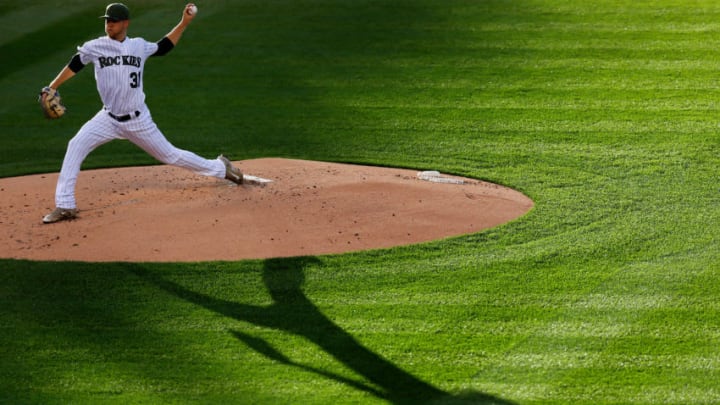 DENVER, CO - MAY 27: Starting pitcher Kyle Freeland #31 of the Colorado Rockies delivers to home plate during the second inning against the St Louis Cardinals at Coors Field on May 27, 2017 in Denver, Colorado. (Photo by Justin Edmonds/Getty Images) /
DENVER, CO – AUGUST 18: German Marquez. Photo courtesy of Getty Images. /
If you're one of the fans that believes Jon Gray isn't ready to be an ace, then German Marquez is the next best thing. Marquez, who will only be 23 in February, has shown some serious potential with his 11 wins and 8.2 strikeouts per nine innings.
Though like Gray, his ERA was a bit high 4.39, but don't let that turn you away. He did an outstanding job with this being his first year in the majors. If he wasn't a starter, he'd be the reliever that wants to get out of tough situations.
Perhaps if another Wild Card game rolls around he might be the man that needs to take the mound. Despite his youth he has a very mature demeanor about him and is ready to take on whatever comes his way.
DENVER, CO – JULY 7: Starting pitcher Chad Bettis. Photo courtesy of Getty Images. /
Despite facing the hardship of having to put baseball on the back burner due to cancer Chad Bettis is a solid pitcher. The middle of the rotation is probably the best spot for him.
After two youngsters, you have a veteran pitcher coming after you with all his pitches. Due to the brief starts he had it's hard to tell what his true potential will be in 2018. If anything you should go back and watch his amazing start after coming back from cancer treatment. Along with Tyler Chatwood being gone, Bettis is the vet to look to for advice and leadership.