Colorado Rockies: The 5 most disappointing players in 2017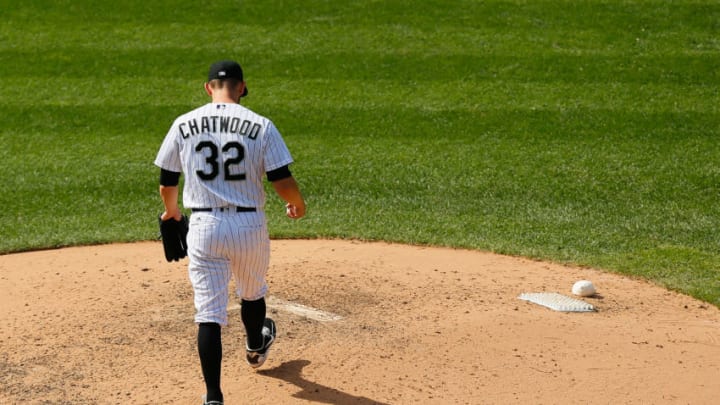 DENVER, CO - AUGUST 20: Relief pitcher Tyler Chatwood #32 of the Colorado Rockies walks back to the mound after giving up a home run to Jesus Aguilar of the Milwaukee Brewers during the seventh inning at Coors Field on August 20, 2017 in Denver, Colorado. (Photo by Justin Edmonds/Getty Images) /
Luckily for Rockies fans, it doesn't mean too much that Chatwood was a disappointment, because he won't be a Rockie for long. Chatwood may have looked alright from a statistical perspective, but he failed the eye test over and over again, walking players and tending to leave the ball in the meat of the strike zone. Bud Black ultimately could no longer take it, and moved him to the bullpen.
Now Chatwood has the option to leave Colorado, and likely will. There is absolutely no reason to panic, though. The Rockies should have plans to completely restart and find a brand new bullpen this off season. Hopefully, we can look back in 2018 and say we do not need Chatwood anymore.
Ottavino is so hard not to have in your bullpen somewhere. He just seems to have that scary word on his name: potential. His off-speed is unmatched, and he can throw the ball pretty hard too. He has shown flashes of greatness and looks to one day be a key contributor in an effective or at least serviceable bullpen.
Next: The flip side: The 5 most successful Rockies of 2017
Or at least that is the hope, but suddenly it is looking somewhat illogical to consider. At age 31, Ottavino had an ERA over 5 and almost gave up a hit every inning he pitched. He struck out a whopping 63 guys in only 53 1/3 innings pitched, but let's remember the relievers have a much easier time striking out batters than starters do. Ottavino certainly has potential to be a good player, but he was disappointing to watch this season because his walk rate. He averaged 6.6 walks per nine innings. Obviously, that is something that he must reduce in 2018.