Colorado Rockies history: 1995 playoffs and comparing to 2017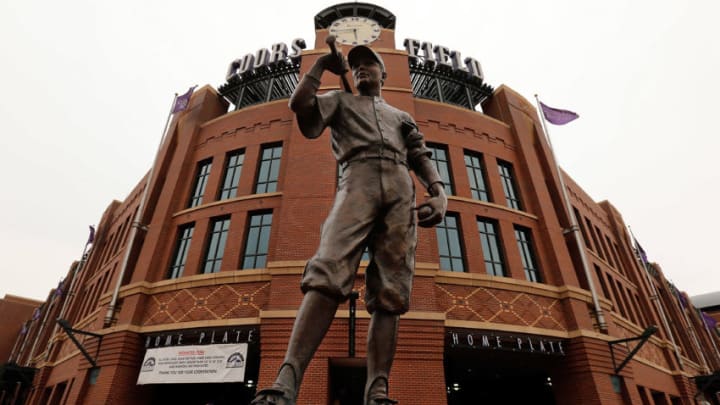 DENVER, CO - AUGUST 13: 'The Player' statue stands sentry outside the stadium as the Milwaukee Brewers face the Colorado Rockies at Coors Field on August 13, 2012 in Denver, Colorado. (Photo by Doug Pensinger/Getty Images) /
1 May 1997: Shortstop Walt Weiss of the Colorado Rockies tags out shortstop Shawon Dunston of the Chicago Cubs during a game at Coors Field in Denver, Colorado. The Rockies won the game 5-4. Mandatory Credit: Brian Bahr /Allsport /
For Game Three, the Rockies were in a must-win situation. The bullpen had blown two leads late in Colorado and it would be a daunting task to take on the Braves on their home turf. However, they did not die this night.
On this night, Friday October 6, 1995, Don Baylor's lineup would look like this:
Eric Young, 2B
Mike Kingery, CF
Dante Bichette, LF
Larry Walker, RF
Andres Galarraga, 1B
Vinny Castilla, 3B
Joe Girardi, C
Walt Weiss, SS
Bill Swift, SP
Bobby Cox's lineup would be as follows:
Marquis Grissom, CF
Mark Lemke, 2B
Chipper Jones, 3B
Fred McGriff, 1B
David Justice, RF
Ryan Klesko, LF
Javy Lopez, C
Jeff Blauser, SS
John Smoltz, SP
The Rockies got the ball rolling quickly in the first inning as Eric Young scored on a wild pitch with Larry Walker at bat to make it 1-0.
In the top of the third, Young added to the tally as he hit a two-run home run to make it 3-0.
However, in the bottom of the fourth inning, the Braves tied it up after a RBI double by Klesko and a two-run single by Lopez.
In the top of the sixth inning, though, Vinny Castilla launched a two-run home run to knock Smoltz out of the game and it make a 5-3 Rockies lead.
In the bottom of the seventh inning, with Mike Munoz on in relief for the Rockies, pinch hitter Mike Mordecai got a RBI double to narrow the lead.
Pinch hitter Luis Polonia tied the game up at five in the bottom of the ninth when he recorded a RBI single.
The game went to extra innings but not far. In the tenth inning, Andres Galarraga and Vinny Castilla both recorded RBI singles off Mark Wohlers to make it a 7-5 Rockies lead and they would win game four by that margin.
They would head to game four with a little bit of momentum after winning game three.