Colorado Rockies history: 1995 playoffs and comparing to 2017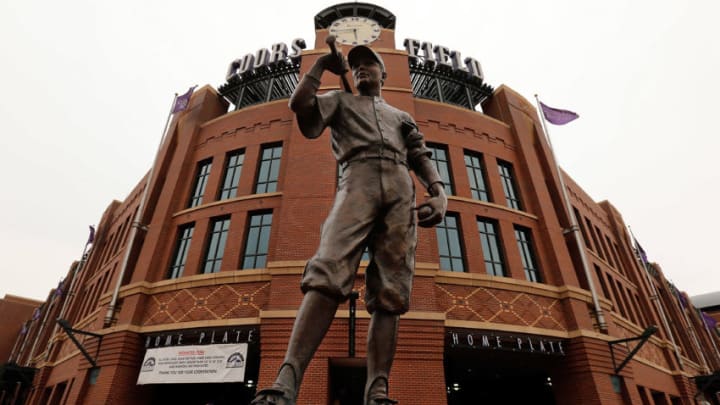 DENVER, CO - AUGUST 13: 'The Player' statue stands sentry outside the stadium as the Milwaukee Brewers face the Colorado Rockies at Coors Field on August 13, 2012 in Denver, Colorado. (Photo by Doug Pensinger/Getty Images) /
25 Jun 1995: First baseman Andres Galarraga of the Colorado Rockies throws the ball during a game against the San Diego Padres at Jack Murphy Stadium in San Diego, California. The Rockies won the game 11-4. Mandatory Credit: Stephen Dunn /Allsport /
For Game 2, both teams saw lineup changes in their starting eight (and, obviously, the starting pitchers). For the Braves, their lineup looked like this:
Grissom, CF
Lemke, 2B
Jones, 3B
McGriff, 1B
Justice, RF
Javy Lopez, C (who didn't start in game 1)
Klesko, LF (who hit sixth in game 1)
Blauser, SS
Tom Glavine, SP
The Rockies lineup looked like this:
Young, 2B
Burks, CF (who hit sixth in game 1)
Bichette, LF
Walker, RF
Galarraga, 1B
Castilla, 3B (who hit seventh in game 1)
Girardi, C (who hit second in game 1)
Weiss, SS
Painter, SP
In the first inning, the Braves scored as early as they could. On the first pitch of the game, Marquis Grissom hit a solo home run to make it 1-0 Braves.
In the top of the third inning, Javy Lopez added to the Braves' tally with a sacrifice fly to make it a 2-0 game.
In the top of the fourth inning, Marquis Grissom hit his second home run in as many at-bats.
Heading to the bottom half of the sixth inning, the Rockies had only tallied two hits off of Glavine. However, in the sixth, Burks reached on an error and Bichette singled. On the first pitch to Larry Walker, Glavine gave up a three-run home run to Larry Walker to tie the game at three.
In the bottom of the eighth inning, the Rockies took the lead on a RBI by Andres Galarraga for a 4-3 lead. However, for the second straight night, the Rockies bullpen could not hold it.
Curt Leskanic gave a double up to Chipper Jones to lead off the inning. Mike Munoz gave a RBI single to Fred McGriff to tie the game at four. Four batters later, Mike Mordecai, who was pinch-hitting for reliever Alejandro Pena, hit a RBI single to take the lead. On the next pitch, Rafael Belliard, who had come in to play shortstop the previous half inning, got on with a throwing error by Eric Young that scored two runs to make it a 7-4 game.
The Rockies ended up scoring by that score. They would head to Atlanta down 2-0 in the series.