Colorado Rockies history: 1995 playoffs and comparing to 2017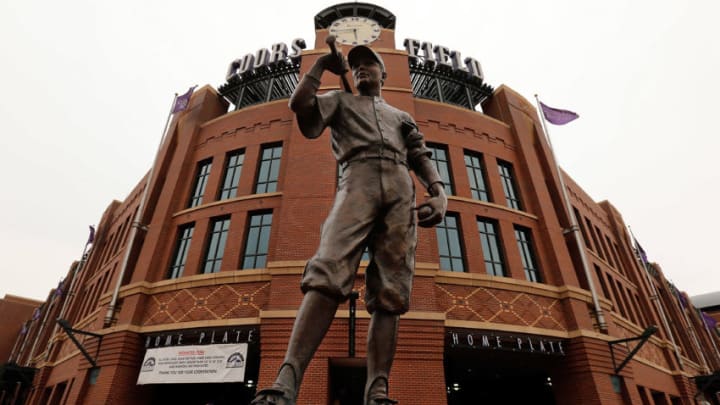 DENVER, CO - AUGUST 13: 'The Player' statue stands sentry outside the stadium as the Milwaukee Brewers face the Colorado Rockies at Coors Field on August 13, 2012 in Denver, Colorado. (Photo by Doug Pensinger/Getty Images) /
7 Mar 1998: Outfielder Ellis Burks of the Colorado Rockies in action during a spring training game against the Arizona Diamondbacks at the Hi Corbett Field in Tucson, Arizona. Mandatory Credit: Todd Warshaw /Allsport. Getty Iamges. /
The first two innings, the game was scoreless for both teams. However, in the top of the third inning, with two outs, Marquis Grissom hit a solo home run to make it a 1-0 Braves lead.
No further scoring happened until the bottom of the four inning. In the bottom of the fourth, the Rockies responded with a sacrifice fly by Ellis Burks to tie the game. Two pitches later, Vinny Castilla connected for a two-run home run off Maddux to make it a 3-1 Rockies lead.
In the top of the sixth inning, then-rookie Chipper Jones connected on the first pitch of the inning for a home run that pulled the Braves within one. Three batters later, Luis Polonia (who was pinch-hitting for Charlie O'Brien) reached on a fielder's choice that score David Justice that tied the game at three apiece.
In the top of the eighth inning, Dwight Smith (who was pinch-hitting for Jeff Blauser) had a RBI single to score Ryan Klesko to make it a 4-3 Braves lead.
In the bottom half of the eighth, Ellis Burks hit a RBI double to score Dante Bichette on the first pitch off of new reliever, Alejandro Pena, who had just replaced Greg McMichael who had come on at the beginning of the inning in relief of Maddux. That tied the score at 4-4.
Curt Leskanic came on to try to preserve the tie but he allowed a homer to Chipper Jones, his second of the game, to make it a 5-4 game
The Rockies nearly got to Braves' closer Mark Wohlers as they got the bases loaded with only one out but Wohlers struck Andres Galarraga and pinch hitter Lance Painter (who was a reliever pinch hitting for Leskanic because the Rockies were out of bench players) swinging to end the game.
Painter would see action in Game 2. However, he would be the starting pitcher for the Rockies in it.