Colorado Rockies history: 1995 playoffs and comparing to 2017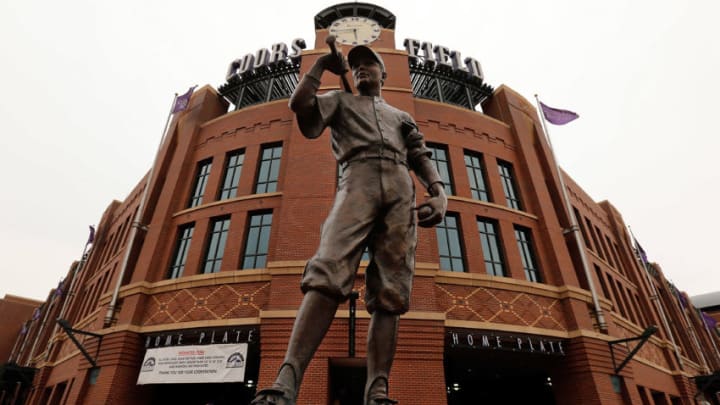 DENVER, CO - AUGUST 13: 'The Player' statue stands sentry outside the stadium as the Milwaukee Brewers face the Colorado Rockies at Coors Field on August 13, 2012 in Denver, Colorado. (Photo by Doug Pensinger/Getty Images) /
13 Jun 1998: Manager Don Baylor of the Colorado Rockies looks on during a game against the Los Angeles Dodgers at the Dodger Stadium in Los Angeles, California. The Rockies defeated the Dodgers 4-2. Mandatory Credit: Vincent Laforet/Allsport. Getty Images. /
In the bottom of the fifth inning, the Rockies took the lead. They faced pitcher Mark Leiter and Leiter gave up an RBI single to Larry Walker, a RBI double by Andres Galarraga, a RBI groundout by Vinny Castilla, and a RBI double by Walt Weiss to make it a 10-8 game.
In the top of the seventh inning, the Giants cut the lead in half on a Kirt Manwaring sac fly to make it 10-9 but neither team would score any more runs.
The Rockies, with their win, would face the Atlanta Braves in a few short days. It was one of the best teams ever. Their team would feature three players that are currently in the Baseball Hall of Fame (Tom Glavine, John Smoltz, and Greg Maddux) and one future Hall of Famer (Chipper Jones).
On October 3, 1995, the Rockies would face the Braves in Game 1 at Coors Field, which was in it's first season as the Rockies home (FYI: Coors Field is the third oldest stadium in the National League behind Wrigley Field and Dodger Stadium now).
Braves manager Bobby Cox's lineup, in game one, looked like this:
Marquis Grissom, CF
Mark Lemke, 2B
Chipper Jones, 3B
Fred McGriff, 1B
David Justice, RF
Ryan Klesko, LF
Jeff Blauser, SS
Greg Maddux, SP
Rockies manager Don Baylor made his lineup look like this:
Eric Young, 2B
Joe Girardi, C
Dante Bichette, LF
Larry Walker, RF
Andres Galarraga, 1B
Ellis Burks, CF
Vinny Castilla, 3B
Walt Weiss, SS
Kevin Ritz, SP