Colorado Rockies: How they stack up in the NL Wild Card race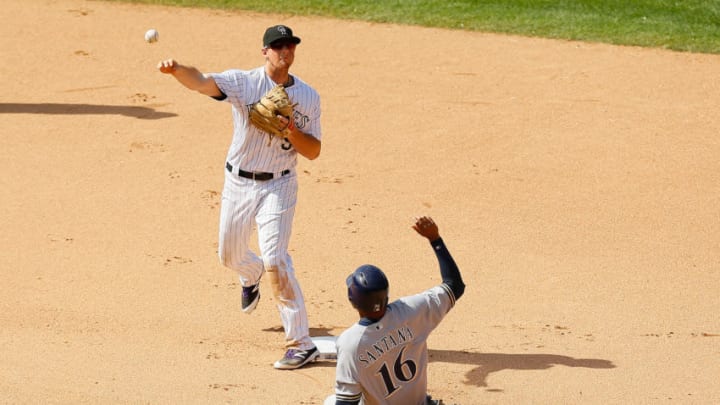 DENVER, CO - AUGUST 20: Second baseman DJ LeMahieu #9 of the Colorado Rockies throws to first base to complete the double play for the first two outs of the seventh inning as Domingo Santana #16 of the Milwaukee Brewers slides at Coors Field on August 20, 2017 in Denver, Colorado. (Photo by Justin Edmonds/Getty Images) /
DENVER, CO – AUGUST 20: Second baseman DJ LeMahieu #9 of the Colorado Rockies throws to first base to complete the double play for the first two outs of the seventh inning as Domingo Santana #16 of the Milwaukee Brewers slides at Coors Field on August 20, 2017 in Denver, Colorado. (Photo by Justin Edmonds/Getty Images) /
With every game, the Colorado Rockies are inching closer to making their first appearance in the National League playoffs since 2009. It's also appears it is going to be a white-knuckle race to the finish.
While the team has not put up the kind of record in the second half of the season that it did before the All-Star break, it seems to be in a great position to make October one to remember in Denver.
Heading into play on Sunday, the Rockies were given an 80 percent chance to make the postseason according to MLB.com. Four National League teams have a greater chance to make the postseason. Washington and Los Angeles were both at 100 percent while the Chicago Cubs were at 86 percent and the Arizona Diamondbacks were at 83 percent.
Now if all of those teams made the postseason, that is no problem for Rockies fans. After all, five National League teams will advance to play further in October and Colorado has a great chance to be in that mix. But what about the teams behind them?
As of Sunday morning, St. Louis had a 38 percent chance to make the postseason. Milwaukee came in at 8 percent and the rest of the National League fell behind from there. The Brewers entered Sunday 3.5 games behind the Diamondbacks for the second Wild Card spot while St. Louis was 4 games back. The Brewers pulled within 2.5 games with their 8-4 win over the Rockies on Sunday, their sixth win in their last seven games. St. Louis stayed four games behind thanks to a loss to the Pirates on Sunday Night Baseball.
Here is how the Wild Card standings look on Monday morning, August 21…
Colorado +1
Arizona —
Milwaukee -2.5
St. Louis -4.0
Note: Chicago leads Milwaukee by 2 games in the National League Central while St. Louis is 3.5 games back.
While the Rockies seem safe, it's a good time to look at Arizona, Chicago, St. Louis and Milwaukee to compare their schedules and see which teams might have an advantage down the stretch.
Let's start with the Rockies and how they might fare the rest of the season and go from there.