What Are the Rockies World Series Chances?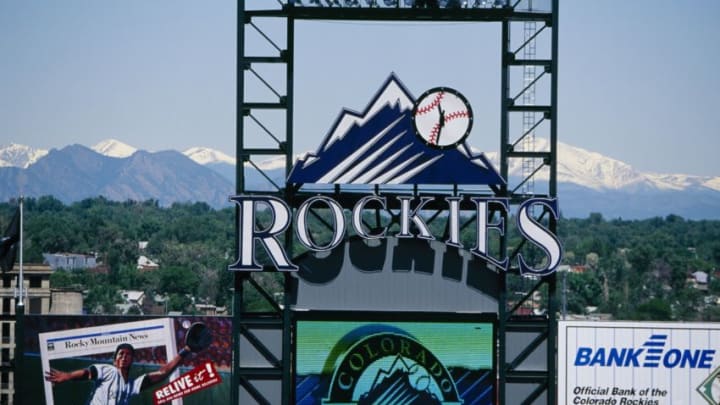 DENVER - JUNE 18: General view of Rockies logo in outfield during the Atlanta Braves game against the Colorado Rockies at Coors Field on June 18, 1995 in Denver, Colorado. (Photo by Nathan Bilow/Getty Images) /
MIAMI, FL – JULY 10: Charlie Blackmon #19 of the Colorado Rockies and the National League speaks with the media during Gatorade All-Star Workout Day ahead of the 88th MLB All-Star Game at Marlins Park on July 10, 2017 in Miami, Florida. (Photo by Mark Brown/Getty Images) /
Obviously, the Rockies have maybe the best offense in all of baseball this year, starting with Charlie Blackmon and DJ LeMahieu. Both players are hitting around .315 this year, meaning the chances of one of the two getting on are actually a lot higher than you would think. Next in the order is usually the MVP candidate, Nolan Arenado. Arenado is leading the MLB in RBI's this year, and it's not even close. The next man down, Jake Lamb, has 9 less RBI's than Nolan. He consistently finds any possible way to get runs home, whether that's hitting a ground ball to second to score the runner from third, to finding his pitch and hitting a home run.
The starting rotation is what scares us Rockie fans the most. In other words, the rotation has done exactly what we thought it would do. The lineup featuring a handful of rookies had an excellent start to the year, only to fall off a cliff by July. Here's what fans are missing though. The Rockies have a lot of pitching. Jon Gray and Kyle Freeland have probably been the best. Between Marquez, Senzatela, Hoffman, Chatwood, and even Chad Bettis, the Rockies have so many guys who can start games for us. When one man gets fatigued, Bud Black can simply move him to the bullpen for a week and let someone else pitch in his spot. Rockies pitching may not be great, but they're typically good enough to let the offense win the game.
The bullpen should not be in the way of a pennant anymore either. The Rockies recently acquired Pat Neshek from the Phillies. Neshek has been phenomenal this season, posting a 1.12 ERA. Throw him in with Greg Holland and any starters that aren't in the rotation, and the bullpen is set.