Miami Marlins focusing on the Rockies' farm system for a trade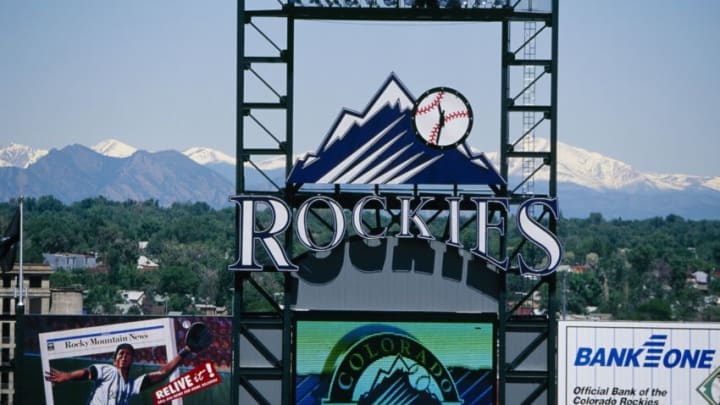 DENVER - JUNE 18: General view of Rockies logo in outfield during the Atlanta Braves game against the Colorado Rockies at Coors Field on June 18, 1995 in Denver, Colorado. (Photo by Nathan Bilow/Getty Images) /
Christian Yelich is yet another outfielder that the Rockies could be interested in acquiring. He's had a bit of a downward offensive turnout in 2017 as in 80 games, he's had 83 hits, eight homers, 41 RBIs, a .271/.352/.392 slash line, and a 101 OPS+. His career year was 2016 and in 155 games, he had 172 hits, 21 HRs, 98 RBIs, a .298/.376/.483, and a 133 OPS+.
In the 12 games that's he's played at Coors Field, he four doubles, six RBIs, and a .320/.407/.400 slash line, and a BABIP of .364.
For Yelich, since he plays center field, he would either play center field and the Rockies would have to move Charlie Blackmon to left field and Ian Desmond to the bench, move Blackmon to right field (and move Carlos Gonzalez to left field and Ian Desmond to the bench), or move Yelich to left. By examining their defensive metrics, Yelich has struggled defensively in 2017 as, according to Fangraphs.com, his UZR (Ultimate Zone Rating) is -1 and his DRS (Defensive Runs Saved) is -3 but he won a Gold Glove in 2014 with 11 DRS. Blackmon, also according to Fangraphs, has a combined -23.3 UZR in center field since 2015 and it's already -4.9 in 2017. However, in left field and right field it is roughly 0 (or league average). Blackmon's DRS is -7 already in 2017.
He is also under team control through the 2021 as well as a team option for 2022. In 2018, he's supposed to make $7 million, $9.75 million in 2019, $12.5 million in 2020, and $14 million in 2021. The team option for 2022 is for $15 million.
Given his potential and team friendly contract, Yelich will also be on the radar for the Rockies. However, since he is under contract for the long term and he's a cornerstone player for the Marlins, he would be, by the far, the hardest to acquire because the Marlins will be asking for the whole farm system for him.