Miami Marlins focusing on the Rockies' farm system for a trade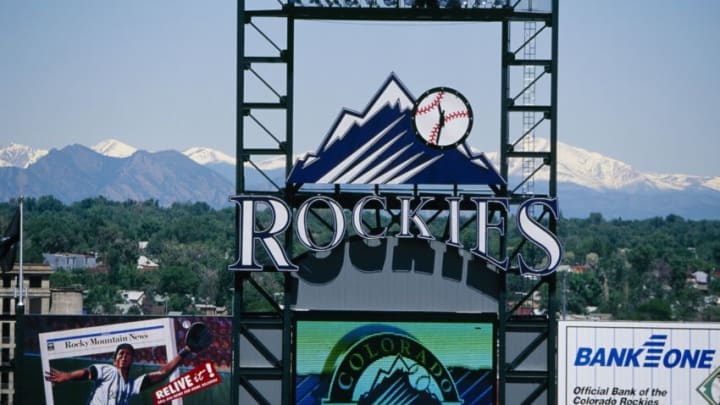 DENVER - JUNE 18: General view of Rockies logo in outfield during the Atlanta Braves game against the Colorado Rockies at Coors Field on June 18, 1995 in Denver, Colorado. (Photo by Nathan Bilow/Getty Images) /
Marcell Ozuna is one of the best outfielders in the National League and it shows as he's played well enough to earn a starting spot for in the outfield the NL All-Star team. He has 23 HRs, 67 RBIs, a .319/.375/.577 slash line, and a 150 OPS+.
In his two other full season of 2014 and 2016 (in 2015, he was injured and only played in 123 games), he averaged 23 HRs and 81 RBIs, a .268/.319/.454, and a 112 OPS+.
In addition, in 10 games at Coors Field, he has had three homers, four RBIs, and a slash line of .333/.372/.462. He's also hit in the clean-up spot for the Marlins in 2017 and that the four hole has been an area of disappointment for the Rockies this season. Their four hole hitters have a .236/.335/.350 slash line (which is 26th, 18th, and 30th (dead last) in all of baseball). They also only have eight homers from the spot (29th in baseball). 38 RBIs (28th in baseball) and 77 hits, which is 25th in baseball.
He is under team control through the 2019 season because he's arbitration eligible for the next two seasons so his pay is, partially, up to the team.
With all of this considered, even though it would take a lot to acquire Ozuna, the Rockies do have the resources to pull it off.