Miami Marlins focusing on the Rockies' farm system for a trade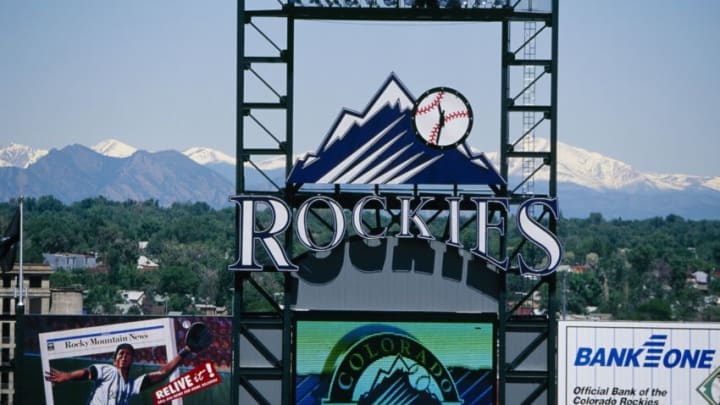 DENVER - JUNE 18: General view of Rockies logo in outfield during the Atlanta Braves game against the Colorado Rockies at Coors Field on June 18, 1995 in Denver, Colorado. (Photo by Nathan Bilow/Getty Images) /
Marlins' starting pitcher Edinson Volquez will be one of the players that the Rockies' are interested in acquiring as he would be a veteran starter, both of which the Rockies' are looking for. He has a 4-8 record with a 4.19 ERA in 17 starts and 92 1/3 innings pitched. His best start of the season was on June 3 as he threw a complete game no-hitter, walked only two and struck out 10 on only 98 pitches. However, he leads the league with 53 walks (or a little more than five walks per nine innings) compared to 81 strikeouts and an ERA+ of 98.
His 2016 season, with the Kansas City Royals, was not particularly good either considering that he went 10-11 with a 5.37 ERA in 34 starts and 189 1/3 innings pitched. He led the league in earned runs allowed with 113 and an ERA+ of 82.
His 2013 and 2014 seasons (with the Pittsburgh Pirates and the Royals) were a lot better as he averaged a 13-8 record with a 3.30 ERA in 32 starts and his ERA+ was 118.
His career numbers in Coors Field are atrocious, though, as he's 1-5 with an 8.02 ERA in nine starts in 42 2/3 innings. He's allowed 41 runs (and 38 of which were earned) in that span of time.
He's also under team control through next season and he's owed $11 million a year next season.
Given his struggles at Coors Field, his struggles in the past two seasons, and the amount that he is owed next season, the Marlins may dangle him in front of the Rockies but they will not bite.