This Day in Rockies' History: Denver finally gets their wish for a team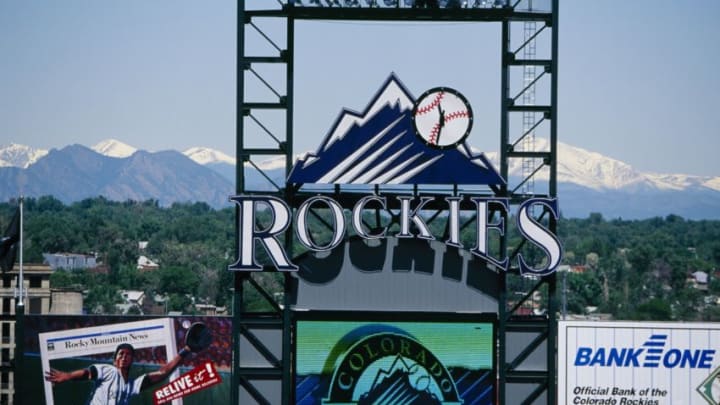 DENVER - JUNE 18: General view of Rockies logo in outfield during the Atlanta Braves game against the Colorado Rockies at Coors Field on June 18, 1995 in Denver, Colorado. (Photo by Nathan Bilow/Getty Images) /
On July 5th, 1991, the biggest moment in Colorado Rockies history happened.
After trying for more than a decade to get a Major League Baseball team in Denver, 26 years ago today, the final vote for two new expansion teams in the National League was voted on and announced. The teams, if passed by the 26 owners of other teams, would come to fruition at the start of the 1993 season and expand MLB to 28 teams. 14 teams would be in each league and seven in each of the two divisions in each league. Those two teams would based out of Miami, Florida and Denver, Colorado. They would later be named the Florida Marlins and the Colorado Rockies.
A Long Time Coming
According to this video from Rockies.com, in 1978, Oakland A's owner, Charlie Finley, and Marvin Davis, who, at the time, was the owner of 20th century FOX and a Denver real-estate developer, agreed in principle to move the A's, who had won three straight World Series from 1972-74, to Denver. However, the deal eventually fell through.
In 1985, both the Pittsburgh Pirates (after the Pittsburgh drug trials implicated numerous Pirates players and other major leaguers as drug dealers or users as well as a 57-105 season) and the San Francisco Giants (who had not finished higher than third place and had stadium issues with Candlestick Park) both were in discussions to relocate to Denver but both fell through.
In August of 1990, the residents of the Denver area passed a sales tax that would fund a new stadium…if a team were to come to Denver. In September, the National League listened to Denver's pitch. By December, Denver was listed on the short-list of six finalists.
By July 5th, 1991, National League President Bill White flew into Denver to make an announcement. That announcement was that Denver would have baseball starting in the 1993 season.
Aftermath
In 1993, the Rockies (and the, then named, Florida Marlins) played their first season. For the Rockies, the first two seasons would be played at Mile High Stadium. Even though they only went 67-95 in their first season, they drew nearly 4.5 million people, or an average attendance per game of 55,350. For the Mile High Stadium opener on April 9th, the Rockies faced the, now defunct, Montreal Expos in front of more-than capacity crowd of 80,227. They all saw the first win in franchise history as the Rockies won 11-4.
By 1995, the Rockies had moved to their new home of Coors Field. With the help of the "Blake Street Bombers" (Larry Walker, Andres Galarraga, Vinny Castilla, and Dante Bichette) and their combined 139 home runs in a strike-shortened 144 game schedule, the Rockies clinched a wild-card birth in just their third season of existence. However, they lost to the eventual World Champion Atlanta Braves in the National League Division Series in four games.
The Rockies would make their first, and thus far, only World Series appearance in 2007 against the Boston Red Sox (after another Wild-Card birth). However, the Rockies were vanquished quickly as they were swept by Boston.